Tens of thousands of South Africans filled a stadium in Soweto on Saturday for the funeral service of Winnie Madikizela-Mandela, a hero of the anti-apartheid struggle but also one of its most controversial figures.

Shouts of "Long live Comrade Winnie" rang out around the stadium, at the beginning of a powerful and emotional service featuring prayers, tributes and the anthems that sustained those fighting for freedom in South Africa through decades of brutal repression against the racist regime.

Cyril Ramaphosa, who has been president since February, sat next to the two daughters of Madikizela-Mandela and Nelson Mandela, the Nobel prize winner and former president. Representatives from African states and political parties joined many of South Africa's best-known political and cultural figures to pay tribute.
© AFP/Getty Images South African military personnel bring in the coffin at Orlando Stadium in Soweto for the funeral ceremony of Winnie Madikizela-Mandela.
The funeral is the highest level that South Africa accords for someone who was not head of state.
Madikizela-Mandela, who was married to Mandela for more than 30 years, had a sometimes negative image abroad that contrasted with a deep and long-lasting popularity in her homeland.
In a tribute at the funeral, her sister Zukiswa Madikizela said "Mam Winnie" was "fearless, courageous and loving", and proof that women are capable of being revolutionaries and leaders.
Swati Dlamini-Mandela, a granddaughter, said Madikizela-Mandela was " a proud black African woman who fought for …. the emancipation of her people".
The stadium is situated little more than a mile from the streets where Madikizela-Mandela lived during the darkest days of apartheid and where she lived until her death.
Thousands have signed a condolence book outside her home on a modest street in the Orlando West neighbourhood. "This is history happening. I couldn't miss this. I am from Soweto so this is very important to me. I am very proud of her," said Aloma Thomo, 40.
Memorials for Winnie Mandela Memorials for Winnie Mandela (Provided by Reuters)
Madikizela-Mandela's remains will be buried in a cemetery in the north of Johannesburg on Saturday afternoon. Her death has prompted a fierce debate within South Africa between her many admirers and a smaller number of detractors.
Born in the poor Eastern Cape province, Madikizela-Mandela's childhood was "a blistering inferno of racial hatred", in the words of British biographer Emma Gilbey.
The young hospital social worker married Mandela shortly before the ANC leader was sentenced to life imprisonment for treason in 1962. During her husband's 27-year incarceration, Madikizela-Mandela campaigned tirelessly for his release and for the rights of black South Africans, establishing a large personal following.
Tortured and subjected to repeated house arrest, she was kept under surveillance and, in 1977, banished to a remote town in another province.
Madikizela-Mandela said the experience of more than a year in solitary confinement changed her. "What brutalised me so much was that I knew what it is to hate," she said.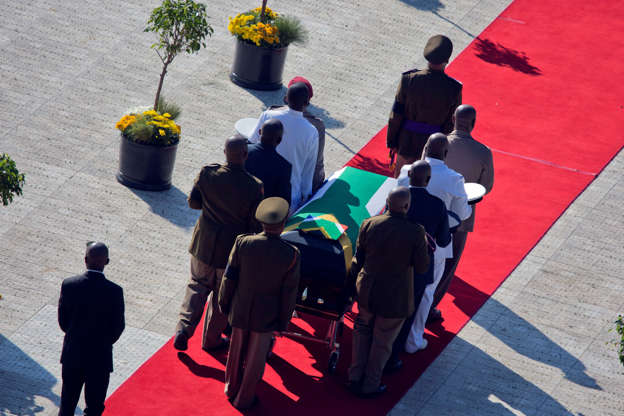 © AP The flag-draped coffin carrying the remains of anti-apartheid icon Winnie Madikizela-Mandela arrives for the funeral ceremony in Soweto, South Africa's Orlando stadium Saturday, April 14, 2018…
As the violence of the apartheid authorities reached new intensity, Madikizela-Mandela was drawn into a world of internecine betrayal, reprisals and atrocity. Most notoriously, Madikizela-Mandela was found guilty of ordering the kidnapping of a 14-year-old boy, Stompie Seipei, also known as Stompie Moeketsi, who was beaten and killed by members of her personal bodyguard in 1989.
Within a year, she gave the clenched-fist salute of black power as she walked hand-in-hand with Mandela out of Cape Town's Victor Verster prison on 11 February 1990.
The end of apartheid marked the start of a string of legal and political troubles. Appearing at the Truth and Reconciliation Commission set up to account for atrocities committed by both sides in the anti-apartheid struggle, Madikizela-Mandela refused to show remorse for abductions and murders carried out in her name.
Madikizela-Mandela separated from her husband in 1992. She was sacked from her ministerial post in 1995 after allegations of corruption and the couple divorced a year later. But her popular appeal remained strong.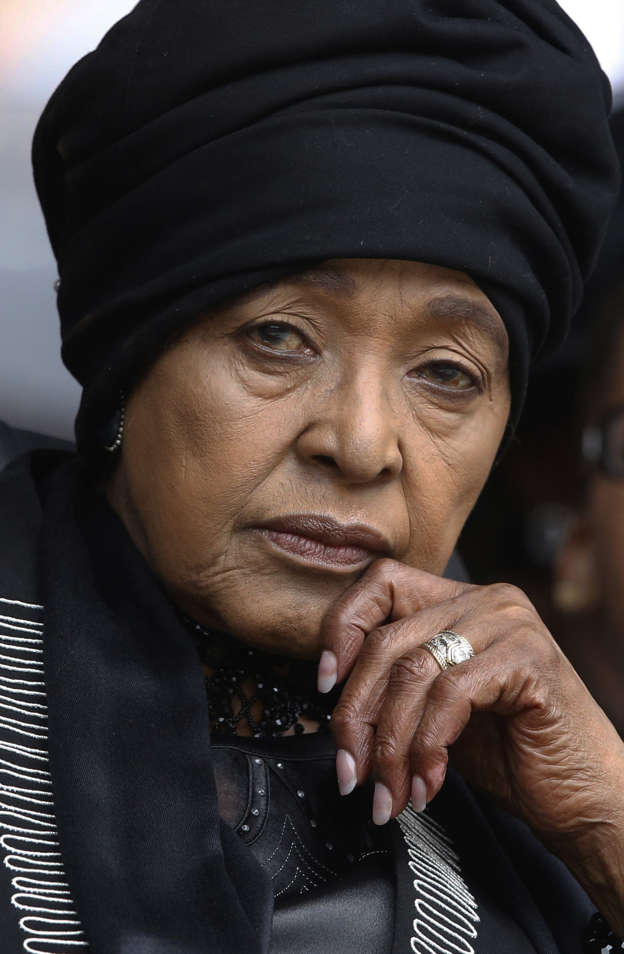 © AP FILE-In this Tuesday, Dec. 10, 2013 file photo Winnie Madikizela-Mandela, Nelson Mandela's former wife, listens to speakers during the memorial service for former South African president Nelson Mandela…
In Soweto she was deeply involved in the community, always finding time to help those in need, neighbours said. "Her doors were open to everybody," said Angela Msimang, 32, who lived nearby.
At a memorial service in New York on Friday, UN secretary general António Guterres described Madikizela-Mandela as "a strong and fearless woman. She had to fight patriarchy's definitions of womanhood."
A new memorial outside her Soweto home bears the legend: "'I am the product of the masses, of my country and the product of my enemy', 1996, Winnie Madikizela-Mandela, Rest in Peace, Mother of the Nation."   (The Guardian)