The secrets that make Cristiano Ronaldo a physical phenomenon: Liquid nitrogen treatment, 3am ice baths and hitting volleys while doing chin-ups all help Real Madrid star look like Superman aged 33
Despite his 33 years, Cristiano Ronaldo is still ending the marathon season with a sprint finish, heading into his sixth Champions League final in great form and a phenomenal physical shape that belies his age and astounds both fans and rivals.
He insisted this week that he actually has a 'biological age' of 23, and claimed 'I can keep playing until I'm 41'.
Those close to him speak about dedication being the key but there is also a very clear plan that Real Madrid's all-time top scorer sticks to stay ahead of the rest. His super-human fitness is built on three pillars: Pilates-based gym-work; rest and recuperation; and diet and hydration.
© Provided by Associated Newspapers Limited Cristiano Ronaldo is still the force behind Real Madrid's surge to a third consecutive Champions League final
He has not always got the blend right. Earlier in his career, there were fears at Madrid that his gym routine and failure to rest were a threat to his fitness. He remains as dedicated but he has learned how to recharge and recuperate.
And much of that recuperation takes place in the water. After every game, Ronaldo goes for a swim. Mentally those lengths at home, alone, or accompanied by his son Cristiano Jnr, help him unwind from the tension of the game. They also work the upper body with triceps, biceps, pectorals and deltoid muscles in his shoulders all getting the full treatment as well as the latissimus dorsi, the large muscles that spread across the back and side, that give him that superhero silhouette.
© Provided by Associated Newspapers Limited Zidane is one of the key men in his fitness
And after the obligatory post-match swimming, there is more water therapy with hot and cold water baths to stimulate muscle regeneration, a high-pressure water jet to massage muscles, and a walk-in Cryotherapy chamber, worth £50,000. It's the post-match recovery method favoured by Franck Ribery who, as at 35, is an excellent advocate for it.
Ronaldo had one installed in 2013 after hearing it had worked well for the Bayern Munich winger. The liquid nitrogen emitted reaches temperatures of between minus 160 and minus 200 degrees Celsius – bearable for about three minutes but with huge regenerative dividends.
                    © Provided by Associated Newspapers Limited
Current Reading manager Paul Clement, who was a coach at Real Madrid for two years, spoke about the incredible levels of commitment he saw from Ronaldo regarding his very particular cold-water recuperation programme.
He recalled how after one Champions League game in Turkey the squad got taken back to the Valdebebas training ground near the city's airport at 3am. Most players just wanted to pick up their cars and go home but Ronaldo went for an ice bath instead.
That emphasis on resting can also not be underestimated. It was at a launch of a new chain of gyms last year when he said: 'It's not true that I do 3,000 sit-ups a day. I'm not sure if I even reach a 1,000 in one week'.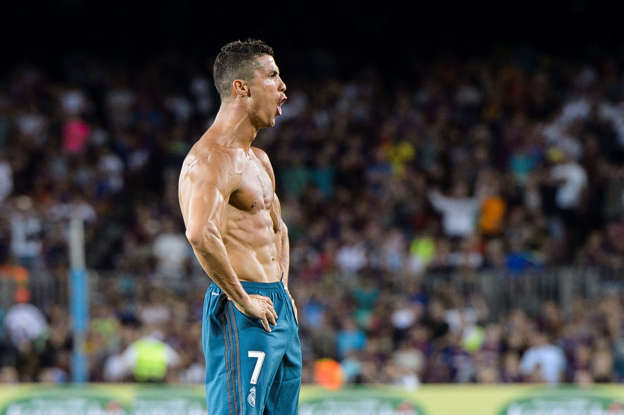 © Power Sports Images/Getty Images Cristiano Ronaldo of Real Madrid celebrating his score the second of Real Madrid shirtless during the Supercopa de Espana Final 1st Leg match between FC Barcelona and Real Madrid at Camp Nou on August 13, 2017, in Barcelona, Spain.
Going to such extremes would injure lumbar muscles at worst and at best just exhaust him. It's not all about sweat and suffering but clearly, the muscle definition is not just the result of rest.
Ronaldo sleeps for at least eight hours a day but all the rest and recuperation are only worth it because they allow him to indulge in daily work-out regimes that physically keep him one step ahead of other players. He works out for three hours, five days a week at Real Madrid's Valdebebas training complex or in his huge home gym.
The leg curls give him those bulging Rectus Femoris muscles in his thighs but it's the unseen core strength that gives that ability to leap and then hang in the air so often seen when he scores with headers. And much of that core strength comes from another of the secrets to his longevity – Pilates.
The key Pilates apparatus is the 'Pilates Reformer'. Via a combination of straps, springs, sliding seat and loops it offers greater resistance that someone's body weight alone would offer them if they were working on a mat with free-weights. And the focus is on the entire core, building muscles that would have been left out of traditional workouts.
His promotion of the discipline is limited to a few Instagram snaps but Ronaldo is as convinced a convert to the late German fitness coach Joseph Pilates's method as anyone.
What is astounding is the mental discipline involved in Ronaldo's brutal post-training workouts. His home pool is no more than 25 metres in length but he has the concentration levels to go up and down it for the good of his body when other players might be relaxing after matches. The Pilates apparatus is also demanding on the mind. There is no ball in sight when he goes through those gruelling routines.
© Provided by Associated Newspapers Limited Ronaldo's phenomenally muscular legs are sculpted in the gym, which he visits daily as part of a gruelling regime
© Provided by Associated Newspapers Limited They are the large muscles that spread across the back and side, which he hones with, among other exercises, chin-ups
There are times when he can't resist integrating the ball. During one of his favourite chin-up routines, he puts a football between the knees. After each set of 10 chin-ups, he drops the ball from his knees on to his right foot and volleys it into a strategically placed basketball two metres in front of him.
Ronaldo's expertise in the gym field has led to him to going into business with American company Crunch Fitness and there are plans to open over 100 more gyms in the next few years with his CR7 branding.
© Provided by Associated Newspapers Limited His Superman silhouette is down to the work on his latissimus dorsi
© Provided by Associated Newspapers Limited Resistance training is a vital part of his workouts
If Ronaldo has honed his workout routines and incorporated rest as the years have passed he has also refined his diet. He tends to eat four or five smaller meals rather than three big meals a day. Everything is designed to speed up metabolism. That's why he steers clear of sugary foods that slow down that process.
He is not vegetarian but he knows that fish is preferable to meat because of the lower fat content. That does not need to be a problem because the Portuguese dish Bacalao a la Brasa (braised cod) is one of his favourites.
© Provided by Associated Newspapers Limited He is a devoted disciple of Pilates, which focuses on core strength
There are plenty of whole grains, egg whites and fresh vegetables and he knows that one of the most important times to eat is immediately after a game when the body is crying out for replenishment. Gone are the days when Real Madrid players refuel on pizza. Their stars always eat sushi post-match and that fits Ronaldo's strict regimen.
He never drinks booze and was angry when in 2015 his 30th Birthday celebrations – to which Colombian singer Kevin Roldan was invited – were later portrayed as having been 'alcohol-fueled'. Roldan put a video on social media, and Ronaldo was filmed, glass in hand, leading many to jump to the wrong conclusion that he was consuming alcohol at the £200,000-plus bash. What was worse was the timing – the party came just hours after Real Madrid had lost the Madrid derby 4-0. The false accusations of a lack of professionalism upset him but it was the alcohol claim that really hurt.
He remains guarded about the habits that have made him such a physical phenomenon into his thirties but one thing he is happier to open up about is how big a part certain individuals have played in his maintaining himself in such good shape.
That's not just weights spotting partner Cristiano Jnr but his mother Dolores Aveiro and coach Zinedine Zidane. Dolores spends time in the exclusive La Finca neighbourhood of Madrid where she can be near to her son and his partner Georgina Rodriguez and can help care for his three youngest children Eva, Mateo and Alana.
© Provided by Associated Newspapers Limited Rest and relaxation are a vital part of Ronaldo's life as he gets older
She makes sure his food is prepared according to those important restrictions on fat and sugar content. And she can help make sure his environment is relaxed enough for him to be able to dedicate so much time to training.
Zidane ensures that everything is right for Ronaldo on the pitch too. He is rested more than ever in the early part of the season so that he can be right for the games that really matter. In the past there was a reluctance to sit out games. Even the ones that did not matter were important opportunities to amass more and more goals as he smashed the scoring records of first Alfredo di Stefano and finally Raul.
© Provided by Associated Newspapers Limited His down time is spent with his family and partner Georgina Rodriguez
The former Spain captain scored 323 goals in his 741 appearances for the club and it was a record that most believed would never be broken. It is a distant second now with Ronaldo currently on 450 goals in just 437 games. How many would he have scored had he clocked up the same number of appearances as Raul?
He will not get to 741 games – Raul played at Madrid for 16 years while Ronaldo is in his ninth year. But behind that famous quote from agent Jorge Mendes that his player would go on scoring goals for Madrid until he was 40 is a deep-lying desire to go on as long as possible.
© Provided by Associated Newspapers Limited His diet is meticulously controlled, with
fish and vegetables key
© Provided by Associated Newspapers Limited Water is at the centre of his recovery process
Indeed, Ronaldo himself said this week in the build-up to the final: 'Right now I have a biological age of 23. I've still got a long time left, I can keep playing until I'm 41. I'm feeling good, happy, I can't complain.'
Sports science has come a long way since Sir Stanley Mathews played until he was 50. His secret was fasting one day a week. Raul had his own secret weapons as he played on until he was 33 – Ronaldo's age now. He used to sleep in an oxygen tent that replicated conditions of high altitude.
© Provided by Associated Newspapers Limited Cristiano Ronaldo Jnr is following in his father's footsteps
© Provided by Associated Newspapers Limited He spots Ronaldo Snr while weight training in the gym
Ronaldo may yet graduate to that but for now, his own methods are working well. As another Champions League final approaches, Liverpool must not underestimate a man now heading into his mid-thirties: he looks as fit to rule now as he did in 2009 when he arrived at the club and remains the physical specimen all players aspire to be.
CRISTIANO RONALDO'S INCREDIBLE CAREER SO FAR (AND HE WANTS TO PLAY ON UNTIL HE'S FORTY!) 
Age: 33
Clubs:
Sporting Lisbon (2002-03) – 25 games, 3 goals
Manchester United (2003-09) – 292 games, 118 goals
Real Madrid (2009-present) – 437 games, 450 goals
Honours:
4x Champions League
3x Premier League
1x FA Cup
2x League Cup
2x La Liga
2x Copa del Rey
3x Club World Cup
International:
Portugal – 149 caps, 81 goals
Honours:
European Championship 2016
Individual honours:
5x Ballon d'Or
2x FIFA The Best Men's Player
1x FIFA World Player of the Year
2x PFA Player of the Year
1x PFA Young Player of the Year
2x FWA Footballer of the Year
1x Premier League Golden Boot
3x La Liga Top Goalscorer
(Daily Mail)