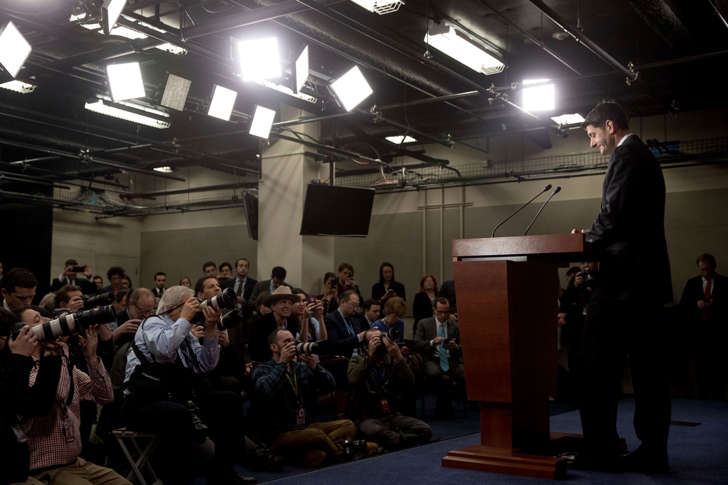 © AP Photo/Andrew Harnik House Speaker Paul Ryan of Wis. pauses during a press conference on Capitol Hill in Washington, Friday, March 24, 2017. Republican leaders have abruptly pulled their troubled health care overhaul bill off the House floor…
House Republican leaders abruptly pulled a rewrite of the nation's health-care system from consideration on Friday, a dramatic defeat for President Trump and House Speaker Paul D. Ryan (R-Wis.) that leaves a major campaign promise unfilled and casts doubt on the Republican Party's ability to govern.
In addition to leaving the Affordable Care Act in place, the news also raises questions about the GOP's ability to advance other high-stakes agenda items, including tax reform and infrastructure spending. Ryan is still without a signature achievement as speaker — and the defeat undermines Trump's image as a skilled dealmaker willing to strike compromises to push his agenda forward.
In an interview with The Washington Post, Trump deflected any responsibility for the setback and blamed Democrats instead.
"We couldn't get one Democratic vote and we were a little bit shy, very little, but it was still a little bit shy so we pulled it," he said.
"I don't blame Paul," Trump said, referring to Ryan.
In a news conference shortly after the decision, Ryan conceded that his party "came up short."
Trump said he would not ask Republican leaders to reintroduce the legislation in the coming weeks. Instead, he said he would wait for the current law encounter problems, believing that Democrats will want to work with the White House to make changes.
"As you know, I've been saying for years that the best thing is to let Obamacare explode and then go make a deal with the Democrats and have one unified deal. And they will come to us, we won't have to come to them," he said.
"The beauty," Trump continued, "is that they own Obamacare. So when it explodes they come to us and we make one beautiful deal for the people."
Trump said he had no problem waiting for Democrats to seek cooperation with Republicans on health-care.
"I never said I was going to repeal and replace in the first 61 days," he said.
In fact, Trump said repeatedly as a candidate and before his inauguration that he would work to repeal the ACA on his first day in office. And congressional Republicans have spent the last seven years campaigning to undo the law.
Democrats, completely sidelined as Republicans quarreled among themselves, quickly disputed Trump's accusations.
"The blame falls with President Trump and with the Republicans," Senate Minority Leader Charles E. Schumer (D-N.Y.) said in a statement.
"So much for the art of the deal," he added.
At the Capitol, a deflated Ryan said he would confer with fellow Republicans in the coming days about how to proceed, but he warned that "we're going to be living with Obamacare for the foreseeable future."
"Moving from an opposition party to a governing party comes with growing pains. We're feeling those growing pains today," he told reporters at a news conference covered by at least 20 television cameras.
"This is a disappointing day for us. Doing big things is hard," he added. "All of us, all of us — myself included — will need to time to reflect on how we got to this moment."
The dramatic decision stunned legislators who have spent the last several years crafting proposals to repeal former president Barack Obama's top domestic policy victory. Some were near tears exiting a meeting where Ryan announced his decision.
Rep. Greg Walden (R-Ore.), chairman of the House Energy and Commerce Committee who wrote much of the legislation under consideration on Friday, told reporters the proposal is "Dead. DOA."
"We're done with health care this year," added Rep. Bill Flores (R-Tex.).
Asked what would happen to the ACA, Rep. Tom Rooney (R-Fla) said, "It's the law of the land."
Asked if Ryan had made the correct decision, Rep. Mark Amodei (R-Nev.), said "As long as they're willing to go to work Monday."
Before the decision, Rep. Bradley Byrne (R-Ala.) said that Friday would have been the "first big vote in the presidency of Donald Trump. I think it's a statement, not just about him and the administration, but about the Republican Party and where we're headed."
"So much about political power is about perception. And if the perception is that you can't get your first big initiative done, then that hurts the perceptions down the road about your ability to get other big things done," Byrne said.
Ryan pulled the bill just a few hours after visiting the White House to warn Trump that despite days of intense negotiations and sales pitches to skeptical members, the legislation lacked the votes to pass.
Trump had personally lobbied 120 lawmakers, either in person or on the phone, White House press secretary Sean Spicer told reporters on Friday.
The president had "left everything on the field," Spicer said.
No matter what happens, the White House did not think that defeat would slow other parts of Trump's agenda including tax reform and immigration reform, Spicer added.
Vice President Pence, White House Chief of Staff Reince Priebus and Health and Human Services Secretary Tom Price also made a last-ditch attempt to win over members of the hard-line House Freedom Caucus, huddling with them at midday at the Capitol Hill Club, a GOP social hall next door to the headquarters of the Republican National Committee. All three exited the meeting quickly without taking questions.
Signs of trouble across the Republican spectrum were evident early Friday.
In one stunning defection, House Appropriations Committee Chairman Rodney Frelinghuysen (R-N.J.) announced at midday that the health care bill is "currently unacceptable" and that changes made late Thursday to placate conservatives "raise serious coverage and cost issues."
Other members, including Rep. David Joyce (R-Ohio) — who had met with Trump on Wednesday night — said he would vote against the bill. So did Rep. Barbara Comstock (R-Va.), a longtime Ryan ally who represents a competitive Northern Virginia congressional district.
Rep. Paul Gosar (R-Ariz.), a Freedom Caucus member, was one of six Republicans who voted against a procedural resolution bringing the bill to the floor on Friday morning.
"You know what? I came here to do health care right," said Gosar, a dentist. "This is one chance we that can get one-sixth of our GDP done right. It starts with here."
At the heart of the argument made by GOP leaders to skeptical members: keeping the Affordable Care Act is a worse outcome than passing a potentially flawed replacement. That worked with only some Republicans.
Rep. Joe Barton, a Freedom Caucus member who said he would have voted for the bill, rejected the idea that his caucus was to blame.
"I thought we were constructive," he said. "Because of the sensitivity of the issue, some of the normal compromise mechanism didn't quite get us there. That doesn't mean they won't get us there some time in this Congress."
At the White House on Friday morning, Trump had projected confidence as he answered shouted questions following an announcement of a presidential permit for the Keystone XL pipeline, a revived project that the president said would create jobs.
Asked by a reporter what he would do if the bill fails, Trump — seated at his Oval Office desk — shrugged and said: "We'll see what happens."
On Twitter, Trump said that "After seven horrible years of ObamaCare (skyrocketing premiums & deductibles, bad healthcare), this is finally your chance for a great plan!"
When formal debate on the bill began on Friday morning, top leaders used a procedural vote to gauge last-minute support. House Majority Whip Steve Scalise (R-La.) was seen conferring with Rep. Christopher Smith (R-N.J.), a key holdout. House Ways and Means Committee Chairman Kevin Brady (R-Tex.) sat in the row behind them cajoling Rep. Patrick Meehan (R-Pa.), another moderate who has yet to announce what he plans to do.
Rep. Mark Meadows (R-N.C.), who chairs the Freedom Caucus, did not respond to requests for comment on Friday about his plans.
Rep. Ken Buck (R-Colo), a caucus member who said before the election that minor losses in the House Republican ranks would increase conservative clout, said he remained undecided.
"I'm examining life experiences," he said. Asked to explain what he meant, he said he was joking.
Rep. Peter King (R-N.Y.), a moderate who had expressed qualms as recently as Tuesday, when he was singled out by Trump inside a private meeting of House Republicans, said he had all but decided to vote for the bill.
"I'm not one they should worry about," he said.
Rep. Louie Gohmert (R-Tex.), one of Trump's most ardent congressional supporters, said he remained opposed to the legislation because it made more political sense to keep current law than to start rewriting it.
"A no vote means we save Donald Trump from a Democratic majority in 2019," Gohmert said. "If this passes, then Obamacare stays."
Republican leaders had introduced several tweaks intended to appeal to skeptics on either ideological flank. The amendment looks to appease moderates by adding $15 billion to a flexible fund for states to pay for maternity, mental health and substance abuse programs under Medicaid. That money adds to an existing $85 billion pot of money created by leaders earlier in the week.
The amendment attempted to appease conservatives by allowing states to determine the minimum standards for health insurance plans. It would allow insurers to drop basic coverage, like maternity care and preventative screenings, in order to cut premium rates.
Several members from both groups said the new additions were helpful but did not go far enough to win their votes. Moderate Rep. Leonard Lance (R-N.J.) told reporters Friday that he worries the bill still does not give states enough flexibility.
"I think there's trouble with a significant number," he said.   (The Washington Post)