President Trump on Saturday declared "mission accomplished" after approving airstrikes with the United Kingdom and France against chemical weapons production facilities in Syria the previous night.
"A perfectly executed strike last night. Thank you to France and the United Kingdom for their wisdom and the power of their fine Military. Could not have had a better result. Mission Accomplished!" Trump tweeted.
"So proud of our great Military which will soon be, after the spending of billions of fully approved dollars, the finest that our Country has ever had. There won't be anything, or anyone, even close!" he added in another tweet.
https://twitter.com/realDonaldTrump/status/985130802668294144
https://twitter.com/realDonaldTrump/status/985133017256660995
Trump announced late Friday during a televised address at the White House that he had ordered "precision strikes" on targets in Syria associated with the government of Syrian leader Bashar Assad. The strikes targeted three sites near the capital of Damascus and in Homs, roughly 100 miles north.
U.S. defence officials were expected to give details on Saturday on the effectiveness of the strikes. Defense Secretary James Mattis on Friday night characterized the strikes as a stronger response to Assad than a strike against a Syrian air base last year following a previous chemical weapons attack.
"Clearly the Assad regime did not get the message last year," Mattis told reporters in a press briefing at the Pentagon. "This time our allies and we have struck harder."
"We used a little over double the number of weapons this year than we used last year," Mattis added. "We were very precise and proportionate, but at the same time, it was a heavy strike."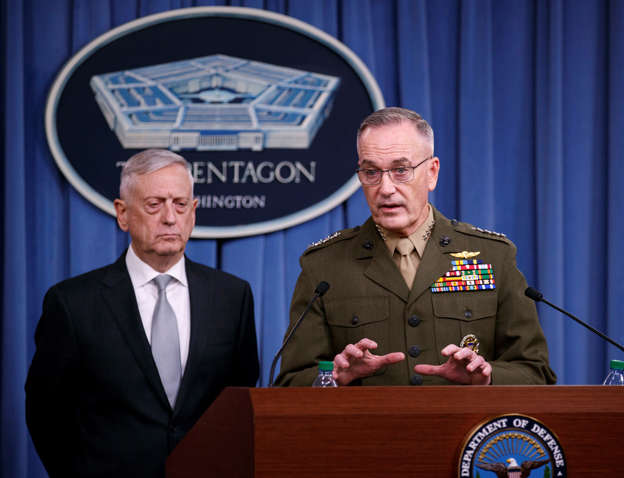 © AP Defense Secretary Jim Mattis, joined by Joint Chiefs Chairman Gen. Joseph Dunford, speaks at the Pentagon, Friday, April 13, 2018, on the U.S. military response, along with France and Britain, to Syria's…
Mattis said no additional strikes against Syria were planned.
"Right now, this is a one-time shot," he told reporters.
Trump announced the new strikes Friday night, which was coordinated with France and the U.K., following a week of deliberation and discussions with British Prime Minister Theresa May and French President Emanuel Macron over an apparent chemical weapons attack last weekend.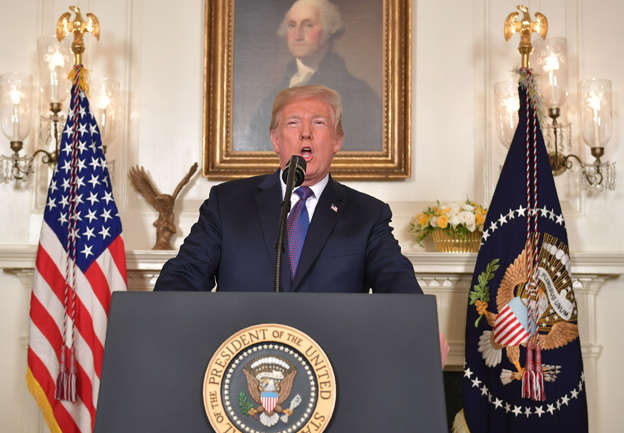 © Getty TOPSHOT – US President Donald Trump addresses the nation on the situation in Syria April 13, 2018, at the White House in Washington, DC. Trump said strikes on Syria are underway. / AFP PHOTO /…
The U.S. and other Western countries have blamed Assad's government for the attack in the Syrian town of Douma last weekend that left more than 40 people dead.
Syria and its allies, Iran and Russia, have denied that the Assad government used chemical weapons. On Saturday, leaders from all three countries denounced the joint U.S.-led strikes, with Russian President Vladimir Putin calling it an "act of aggression."