Watch: Meghan Markle's Dad Says He Is Not Going to the Royal Wedding (Wochit)
Kensington Palace has asked for "understanding" ahead of Prince Harry's wedding to Meghan Markle amid reports her father will not attend.
"This is a deeply personal moment for Ms Markle in the days before her wedding," said a palace spokesman.
"She and Prince Harry ask again for understanding and respect to be extended to Mr Markle in this difficult situation."
© Other Meghan Markle with her father Tom Markle
Reports emerged on TMZ that former Hollywood lighting director Thomas Markle had decided not to appear at Windsor Castle on Saturday after being left "deeply embarrassed" by the release of pictures that appeared to show him colluding with photographers.
He reportedly suffered a heart attack six days ago but checked himself out of the hospital to prepare for the wedding, only to decide not to go because of coverage of the apparent stunt, which he reportedly told TMZ looked "stupid and hammy".
© AFP
Meghan's half-sister Samantha – who has questioned her relative's charity and humanitarian work – took the blame for the pictures, telling ITV's Loose Women that she wanted to present a "positive" image of her father.
"The media was unfairly making him look bad so I suggested he do positive photos for his benefit and the benefit of the royal family," she said.
          © Other Meghan Markle with her father Tom
She previously insisted her father would walk Meghan down the aisle "unless a plane crashes through his roof".
Mr Markle had been due to walk his daughter down the aisle, with Kensington Palace has previously revealed that he and her mother Doria Ragland would play "important roles".
Mr Markle, 73, and Ms Ragland, 61, divorced when Meghan was six-years-old and there had been speculation over whether he would make the trip before the palace confirmed his attendance earlier this month.
           © Reuters Meghan Markle and Doria Ragland
Some reports had said Meghan was worried about how her dad, who is said to value his privacy, would handle the pressure, although others insisted he was "excited" about the big day.
The palace said earlier this month that Meghan was "delighted to have her parents by her side on this important and happy occasion".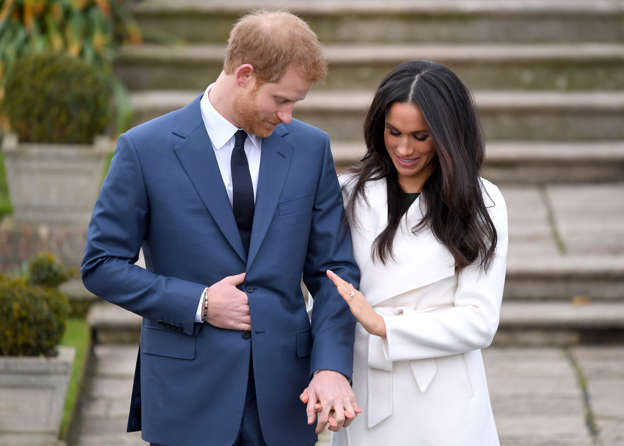 © Getty File: Announcement Of Prince Harry's Engagement To Meghan Markle
But Sky's Royal Correspondent Rhiannon Mills said Prince Harry, who is yet to meet Mr Markle, and Meghan had been "concerned" about the pressure he had been under ahead of the big day.
She explained: "It is unusual to have a statement released like this on such a personal matter.
"In recent days there has been more speculation about relations between Thomas Markle and the media. Prince Harry and Megan Markle have been concerned about the pressure he has been under.
"I understand that Thomas Markle is not here in the UK. I also understand that Meghan's mother is not here in the UK either – she is due in the coming days."
Upon her arrival, Ms Ragland is due to meet the Queen, the Duke of Edinburgh, the Prince of Wales, the Duchess of Cornwall, and the Duke and Duchess of Cambridge.
Earlier it was revealed that she will stay with her daughter at the Cliveden House Hotel, roughly nine miles from Windsor, on the night before the wedding.
Prince Harry will stay at the Dorchester Collection's Coworth Park in Ascot, Berkshire, with his brother and best man Prince William.
The details emerged after forecasters predicted that it would be warm and sunny on the big day, which is expected to see 100,000 people from around the world descend on the town.   (Sky News)