WASHINGTON — The Trump administration plans to impose new sanctions against Russia on Monday to punish it for enabling the Syrian government's use of chemical weapons in its civil war, the latest in a series of actions by both sides underscoring the deterioration in relations between Moscow and the West.
The sanctions, coming shortly after American-led airstrikes against facilities linked to Syria's chemical weapons, are meant to signal that the United States holds responsible not just the Damascus government of President Bashar al-Assad but also his patrons in Russia and Iran. President Trump has vowed that Syria's allies will pay a "big price" for permitting his use of poison gas.
The sanctions were announced on Sunday by Nikki R. Haley, the ambassador to the United Nations and the administration's leading public voice excoriating Russia in recent days. "They will go directly to any sort of companies that were dealing with equipment related to Assad and chemical weapons use," she said on "Face the Nation" on CBS. "And so I think everyone is going to feel it at this point. I think everyone knows that we sent a strong message and our hope is that they listen to it."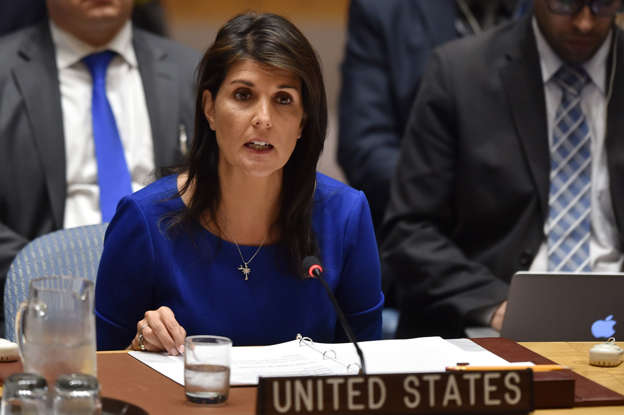 © Getty US Ambassador to the UN Nikki Haley speaks during a UN Security Council meeting, at the United Nations Headquarters in New York, on April 14, 2018. The UN Security Council on Saturday opened a…
Mr Trump has tried through most of his presidency to forge a friendship with President Vladimir V. Putin of Russia and avoid criticizing him personally even as a special counsel, Robert S. Mueller III, investigated whether his campaign coordinated with Russia during the 2016 election. But in recent weeks, Mr Trump's administration has taken increasing action against Russia, and the president singled out Mr Putin over Syria's use of chemical weapons on Twitter and again in a televised speech on Friday night.
New sanctions on Monday would be the third round enacted by the Trump administration against Russia in the past four weeks. Last month the administration targeted Russian companies and individuals for intervening in the 2016 election and mounting cyber attacks against Western facilities. It followed that this month with penalties against Mr Putin's inner circle, singling out some of Russia's richest men and top government officials.
The administration also expelled 60 Russian diplomats and intelligence officers and closed the Russian Consulate in Seattle in response to the poisoning of a former Russian spy living in Britain.
The strikes against Syria in retaliation for a suspected chemical attack that killed dozens in the Damascus suburb of Douma were designed to avoid provoking Russia into a response. By hitting just three targets and limiting the attack to a single night, the Trump administration seemed to keep it limited enough not to compel Moscow to lash back.
But Ms Haley said the administration was determined to make Moscow pay a price for supporting Mr Assad, noting that it had vetoed six United Nations resolutions related to Syria and chemical weapons.
"Assad knew that Russia had its back," she said on "Fox News Sunday." "Assad knew that Russia would cover for him at the United Nations and Assad got reckless and he used it in a way that was far more aggressive."    (The New York Times)