Video provided by Press Association
The US and Russia moved closer to a direct confrontation over Syria on Monday night as Donald Trump said a decision was imminent on a response to a chemical weapon attack on Saturday, and Moscow warned that any US military action would have "grave repercussions".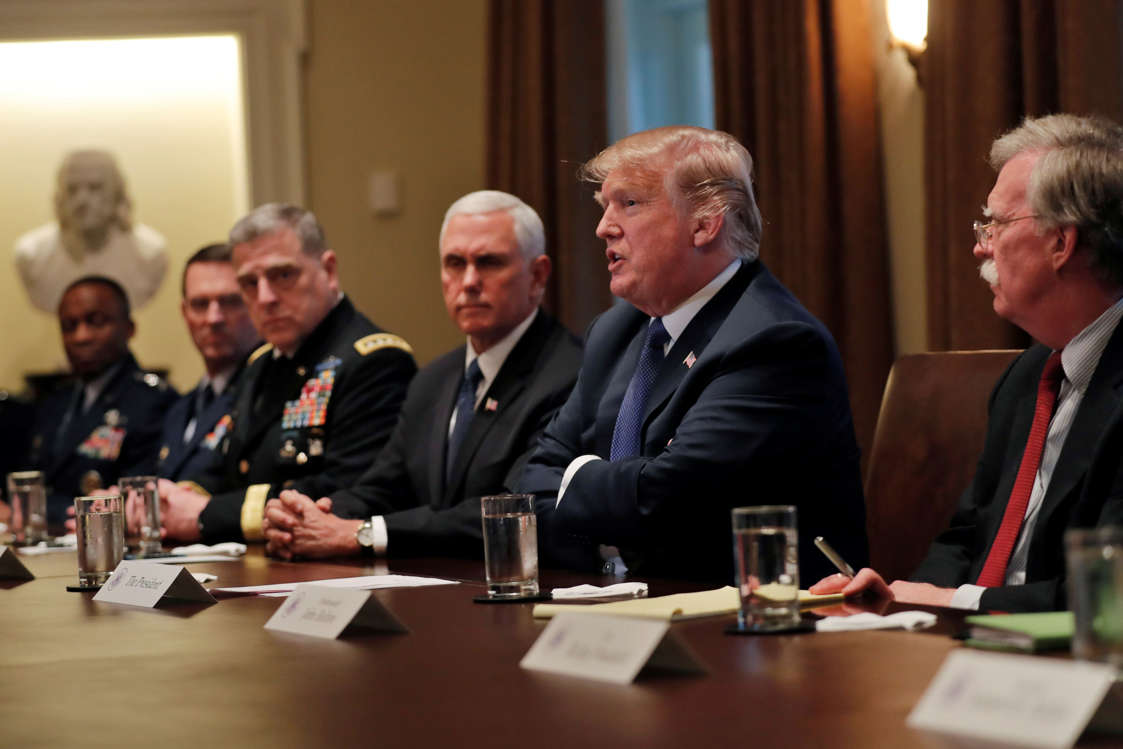 © REUTERS U.S. President Donald Trump receives a briefing from senior military leadership accompanied by Vice President Mike Pence and new National Security Adviser John Bolton (R) at the Cabinet Room of…
Trump met US generals in the White House cabinet room on Monday evening to discuss how to react to the poison gas attack in Douma, a rebel-held suburb of Damascus, reported to have killed more than 40 people and seriously affected hundreds.
The US and its allies have accused the regime of Bashar al-Assad of carrying out the attack, and Trump himself said Vladimir Putin, by backing Assad, bore some responsibility.
© EPA Vassily Nebenzia, centre, Russia's permanent representative to the United Nations, addresses an emergency UN security council meeting in response to a suspected chemical weapons attack in Syria at…
Russia has claimed there was no chemical weapons attack on Douma or, if there was, it was staged by Western-backed rebels.
"So we're going to make a decision tonight, or very shortly thereafter," Trump told reporters as he entered the meeting, accompanied by his new national security advisor, John Bolton. "And you'll be hearing the decision. But we can't let atrocities like we all witnessed … we can't let that happen."
"We have a lot of options, militarily," the president added. "And we'll be letting you know pretty soon. Probably after the fact."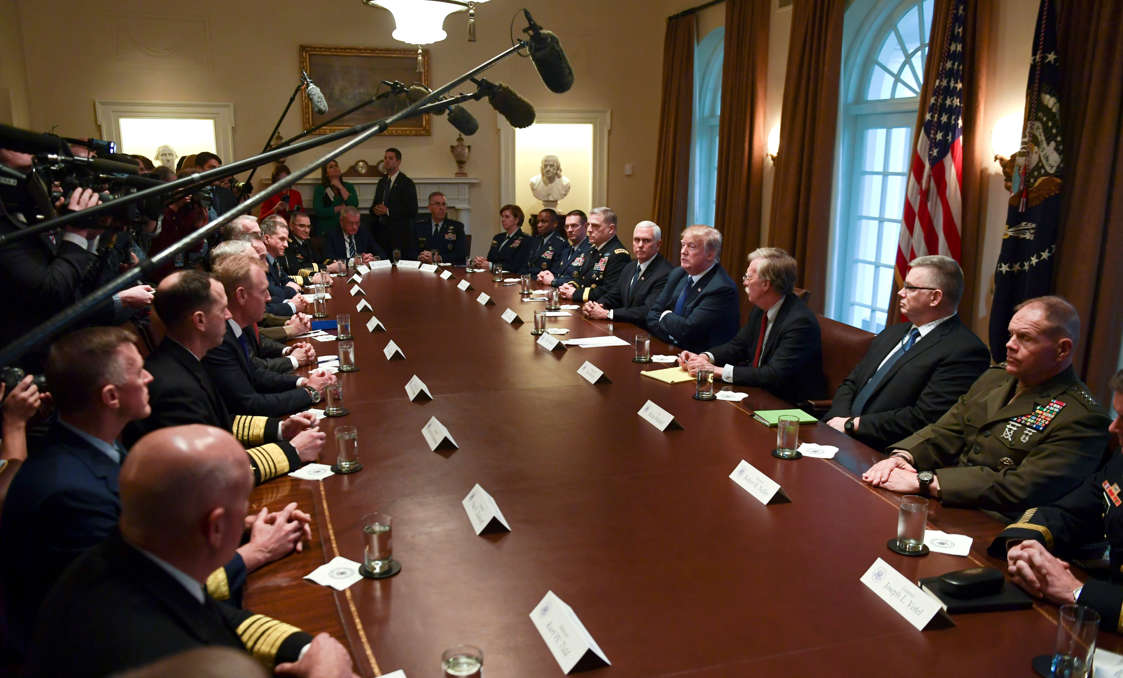 © ASSOCIATED PRESS President Donald Trump, fourth from right, speaks in the Cabinet Room of the White House in Washington, Monday, April 9, 2018, at the start of a meeting with military leaders. Trump is…
The meeting ended after less than an hour. Asked how his first day was going, Bolton replied: "What could go wrong?"
Before meeting the generals, Trump called Macron, who has also threatened military action if the Syrian regime is proven to have carried out a chemical weapons attack. The White House issued a statement saying the US and French presidents would "continue their coordination on responding to Syria's atrocious use of chemical weapons on April 7".
The sharply escalating tensions between the US and Russia boiled over at an angry session of the UN security council session on Monday.
The French UN envoy, Francois Delattre, said the symptoms of the victims suggested that they had been exposed to "a powerful neurotoxic agent, combined with chlorine to enhance its lethal effect". Delattre added that only Syrian forces had the means and the motive to make such weapons and carry out such an attempt.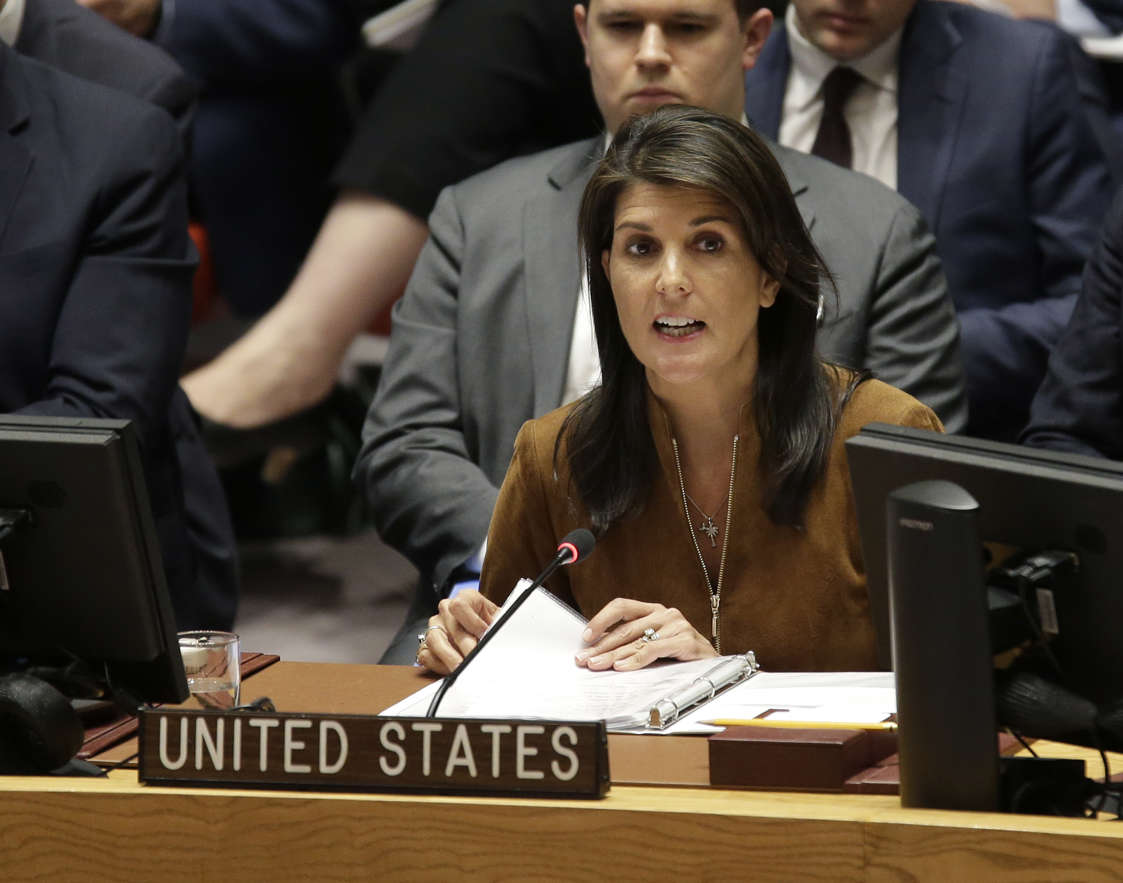 © ASSOCIATED PRESS United States Ambassador to the United Nations Nikki Haley speaks during a Security Council meeting at U.N. headquarters, Monday, April 9, 2018. (AP Photo/Seth Wenig)
The US ambassador, Nikki Haley, lashed out at Moscow for its unstinting backing of Bashar al-Assad, the Syrian leader. She referred to Moscow as the "Russian regime, whose hands are all covered in the blood of Syrian children".
Haley's Russian counterpart, Vassily Nebenzia, complained that "Russia is being unpardonably threatened" and claimed both that Russian investigators had found no evidence of a chemical attack in Douma, and that it had been staged by rebels, trained in carrying out false-flag provocations by US special forces.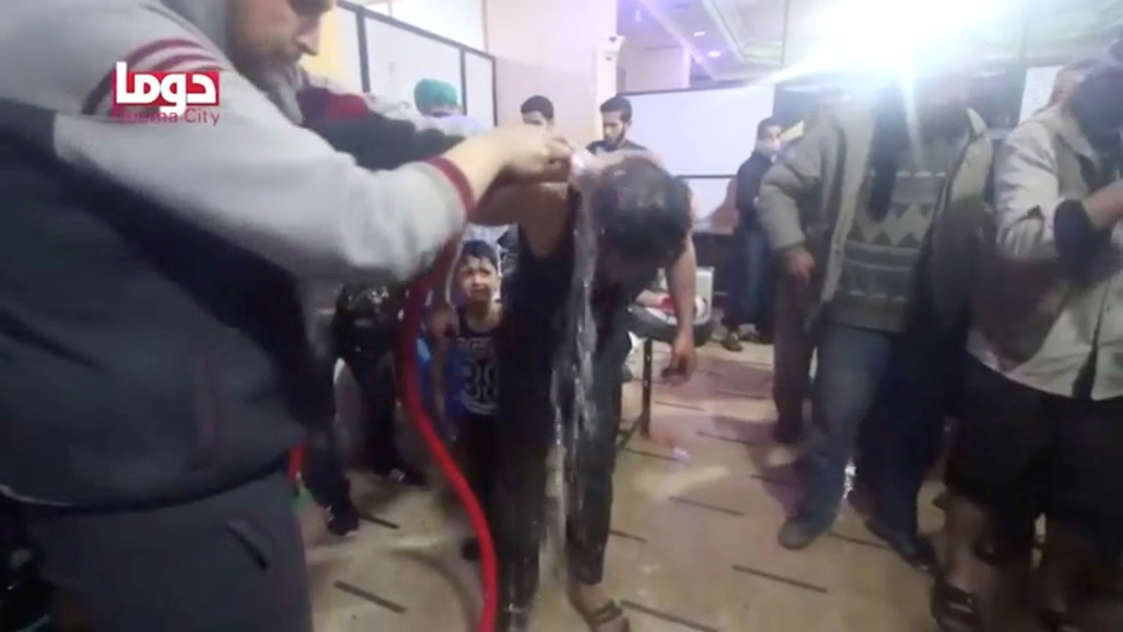 © Thomson Reuters A man is washed following alleged chemical weapons attacks, in what is said to be Douma, Syria in this still images from video obtained by Reuters on April 8, 2018. White Helmets/Reuters…
"There was no chemical weapons attack," Nebenzia told the council. "Through the relevant channels we already conveyed to the US that armed forces under mendacious pretext against Syria – where, at the request of the legitimate government of a country, Russian troops have been deployed – could lead to grave repercussions."
A few hours earlier, Donald Trump said his administration was on the brink of deciding its response to the Douma attack. "We are meeting with our military and everybody else, and we'll be making some major decisions over the next 24 to 48 hours," he said at a cabinet meeting. "We are very concerned when a thing like that can happen. This is about humanity … and it can't be allowed to happen."
Pressed by reporters, Trump went further, saying: "We'll be making that decision very quickly, probably by the end of today. But we cannot allow atrocities like that. Cannot allow it."
Trump ordered airstrikes against a Syrian airbase after a previous chemical weapons attack, in April last year. The latest use of poison gasprovoked from Trump unprecedented direct criticism of Putin, something he had previously been at pains to avoid.
Asked if Putin bore responsibility for the Douma attack, Trump replied: "Yeah, he may. And if he does, it's going to be very tough.
"Everybody is going to pay a price," Trump said. "He will. Everybody will."
Addressing the council chamber by video, the UN special envoy for Syria, Staffan de Mistura, expressed concern that the Syrian conflict was becoming a threat to peace and security far beyond the region, pointing to the major powers being drawn into the war, and pointing to airstrikes on a Syrian regime airbase east of Homs on Sunday, which are widely believed to have been carried out by Israel and aimed principally at Iranian forces there. Tehran has reported that four of its advisers were killed in the airstrikes.
At the security council session, the US proposed a resolution demanding a return to an independent UN mechanism to investigate chemical weapons attacks in Syria, along the lines of an earlier investigative panel that Russia dissolved by vetoing its continued work in November.
"We have reached the moment when the world must see justice done," Haley said. "History will record this as the moment when the UN security council either discharged its duty or demonstrated its utter and complete failure to protect the people of Syria. Either way, the United States will respond."
In his address, Nebenzia suggested a visit to Douma by the Organisation for the Prohibition of Chemical Weapons (OPCW) might be possible under Syrian and Russian military protection. The UK envoy to the UN, Karen Pierce, said the Russian proposal was "an offer worth pursuing" but she added that OPCW inspectors would have to have complete freedom of action and of access.     (The Guardian)