Video provided by Bloomberg
More than a million British Facebook users could have had their personal data accessed by Cambridge Analytica, the company revealed on Wednesday, as it increased its estimates of the total number of users affected from 50 to 87 million.
Mark Zuckerberg, the embattled chief executive of Facebook, refused to rule out legal action against the British company and insisted that he remained the best man to lead the tech firm, flatly denying that he had been asked to resign.
           © Provided by The Telegraph
In a rare teleconference with reporters, Mr Zuckerberg, 33, sidestepped questions as to why he had declined to appear before a committee of British MPs, pointing out that earlier in the day it was confirmed that he will testify before US politicians.
He said he would from now send his executives, including Mike Schroepfer, the chief technology officer, to answer internationally on his behalf.
"We announced today that I am going to be testifying in the US Congress, and I am going to be sending Schroepfer or another of our top folks to answer additional questions from countries in other places," he said.
The entrepreneur struck an upbeat tone at times, saying he was proud of Facebook's work in "bringing billions of people together" and defending the company from accusations of selling data to advertisers.
At other moments he was apologetic, admitting that Facebook had not done enough to protect its users and admitting that, with hindsight, he would have acted to prevent the Cambridge Analytica scandal.
"I think life is about learning from the mistakes and figuring what are the best things to do, moving forward," he said. "I think the reality of a lot of this is that when you are building something like Facebook, that is unprecedented in the world, there are going to be things you will mess up. I think what people should hold us accountable for is learning from our mistakes."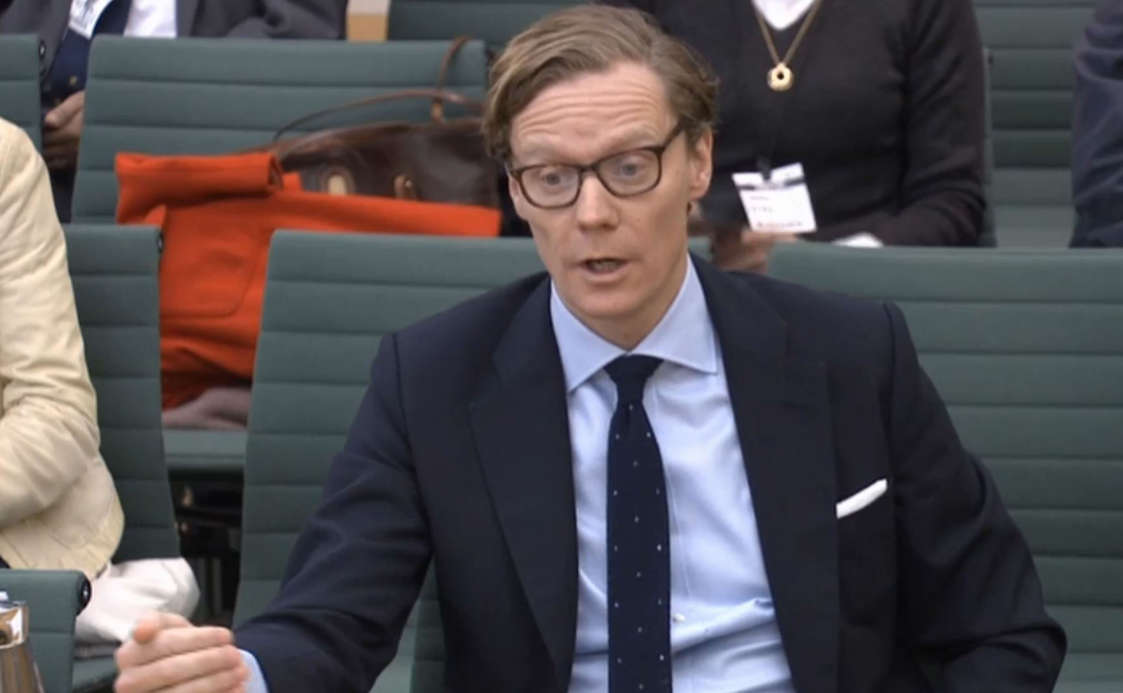 © press association Alexander Nix, the chief executive of Cambridge Analytica
The people affected had their data incorrectly passed to the British election consultants several years ago after fewer than 200,000 Facebook users downloaded a quiz app in 2013 that harvested data about their friends.
Facebook told The Telegraph that 81.2 percent of total affected people were in the US, while 1.2 percent – or 1,079,000 people – were in the UK.
Facebook is now accused of failing to ensure that Cambridge Analytica deleted the data after ordering it to do so in 2015. The British company allegedly used the information to boost Donald Trump's election campaign.
© The Associated Press The offices of Cambridge Analytica (CA) in central London, after it was announced that Britain's information commissioner Elizabeth Denham is pursuing a warrant to search Cambridge…
Technology bosses rarely appear in front of Washington hearings in person and have been criticised by US politicians for sending their top lawyers instead. Mr Zuckerberg has often left Washington manoeuvring to his chief operating officer Sheryl Sandberg, who has represented Facebook at previous political summits, and his appearance next week will be a first in front of US politicians.
Mr Zuckerberg may also face US senators in a separate hearing next week, although this is yet to be confirmed.
The committee's Republican chairman Greg Walden and its ranking Democrat member Frank Pallone Jr said the hearing "will be an important opportunity to shed light on critical consumer data privacy issues and help all Americans better understand what happens to their personal information online".
They added: "We appreciate Mr Zuckerberg's willingness to testify before the committee, and we look forward to him answering our questions."
            © Provided by The Telegraph
Mr Zuckerberg's willingness to appear in Washington jars with his current reluctance to face British MPs, who have twice demanded he appear in front of the digital, culture, media and sport select committee.
Last week, the committee chairman Damian Collins said it was "absolutely astonishing" that Mr Zuckerberg was not prepared to appear in person.
This week, Facebook said it had deleted hundreds of pages and accounts linked to a Russian "troll factory" accused of posting fake news and political posts during the 2016 US presidential election, in a further attempt to regain its reputation.
Mr Zuckerberg said the agency "has repeatedly acted to deceive people and manipulate people around the world, and we don't want them on Facebook".
© The Associated Press Chris Wylie, from Canada, who once worked for the UK-based political consulting firm Cambridge Analytica, gives a talk entitled "The Most Important Whistleblower Since Snowden: The…
He concluded: "Given how complex our systems are, I think this is a multi-year project. Part of the good news is that we have really ramped up on this. We are probably a year in on a three-year push.
"We're going to keep on looking for things, and keep on doing more."   (The Telegraph)