(Video provided by Fox News)
A gunman claiming allegiance to ISIS who holed himself up inside a French supermarket after killing three people in a terror attack has been shot and killed by police.The attacker told police hostage negotiators he wanted a terrorist involved in the Paris attacks to be released from jail, as officials fear they will find more victims.
                     © Provided by Trinity Mirror Plc
The incident is being treated as terrorism by French prosecutors
Police stormed the supermarket in in the town of Trebes at roughly 1.45pm and shot the attacker. A policeman has reportedly suffered a gunshot wound.
The gunman, believed to have been carrying grenades and a handgun, was heard shouting "Allahu Akbar" and "vengeance for Syria" during his rampage in the neighbouring towns of Trebes and Carcassonne.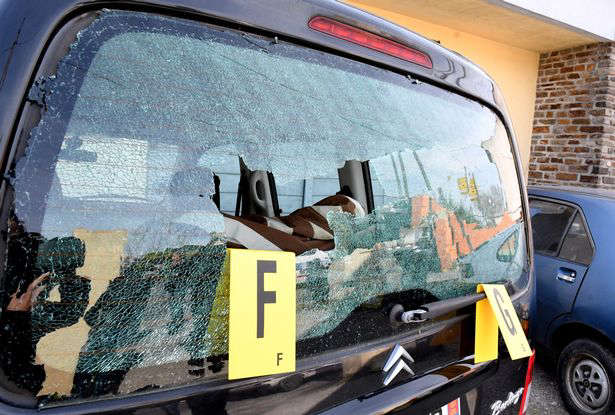 © Maxppp/PA Images A shattered car window at the scene in Carcassonne
He claimed allegiance to ISIS during the attack, say, prosecutors, with reports saying he was a Moroccan national in his 30s who was flagged as a potential extremist and known to the authorities.
His mother, who lives in Carcassonne, was taken to the supermarket by police in an effort to persuade him to surrender.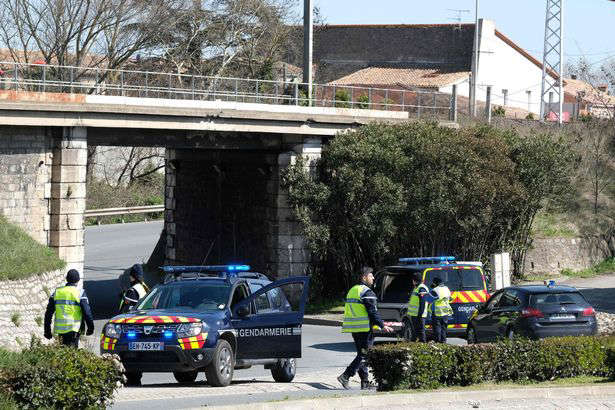 © AFP France has been on high alert following a string of jihadist attacks
The drama unfolded around 11am when a police officer was wounded in a drive-by shooting while he was out for a jog with colleagues in Carcassonne.
A short time later, about 20 hostages were taken at a branch of Super U in Trebes – a 15-minute drive away – where a butcher and a shopper were killed.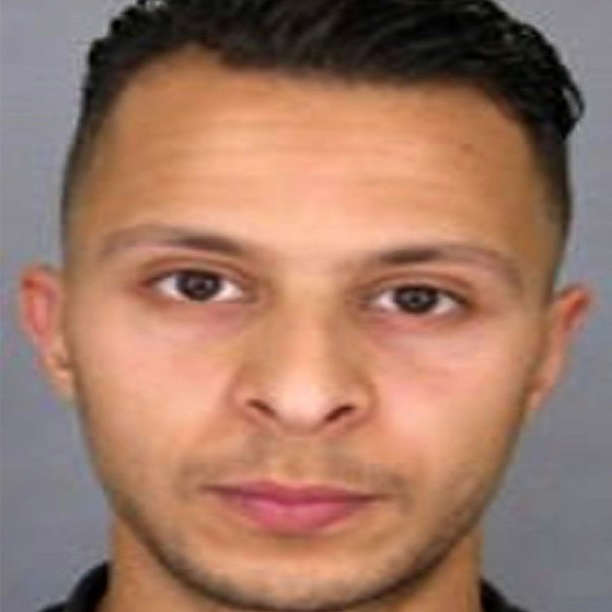 © AFP The terrorist has reportedly called for the release of Salah Abdeslam
A third victim was later found dead in a ditch in Carcassonne near the police barracks with a gunshot wound to the head. Another victim was also seriously injured.
At 1.45pm there were reports police had stormed the supermarket and shot the attacker. A source said the gunman's mother and sister were brought to the scene to try to convince him to surrender.
The gunman was known to the French intelligence service and his name was on an anti-radicalisation list which was created after the Charlie Hebdo attack in Paris in January 2015 to identify and monitor people who may carry out a terror attack.
Negotiators were in contact with the man, who demanded the release of Salah Abdeslam, the only surviving terrorist involved in the November 2015 attacks in Paris that killed 130 people, sources told French media.
Abdeslam, who has refused to answer questions at his trial in Brussels, is a Belgium-born French national of Moroccan descent. He was captured by anti-terror police in Brussels in March 2016.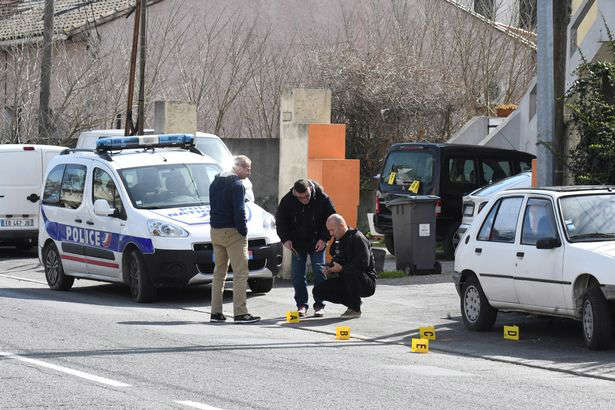 © Maxppp/PA Images Police investigate the scene where officers were shot at in Carcassonne
He was charged with participation in terrorist murder and participation in the activities of a terrorist organization and attempted murder over a shootout with police which occurred days earlier as he eluded capture during a raid.
He is currently in solitary confinement in a high-security prison near Paris while awaiting trial. Abdeslam has admitted helping coordinate the 2015 attacks but failed to let off his suicide bomb vest out the Stade de France, France's national sports stadium, during a football match between France and Germany.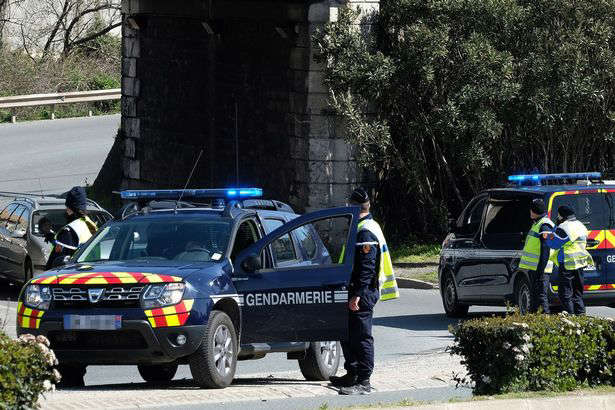 © AFP The gunman demanded the release of a man involved in the Paris attacks, it was reported
A source close to the investigation in Trebes said: "The hostage taker is in touch with police negotiators and has called for the release of Abdeslam."
Trebes' mayor, Eric Menassi, has told French media that there are "two victims" -a worker and a customer – inside the supermarket, which has been surrounded by heavily armed police.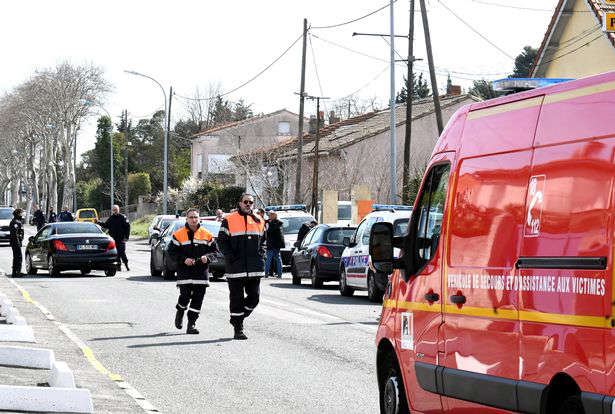 © Maxppp/PA Images There were fears that the death toll would climb
Terrified shoppers fled the supermarket as the gunman stormed the building shouting "Allah Akbar" and "You are bombing Syria, you will die", local media reported.
Around 20 hostages in the supermarket were released shortly after 12.15pm, but a police officer remained inside with the gunman. There were fears the suspect was armed with grenades, a handgun and knives.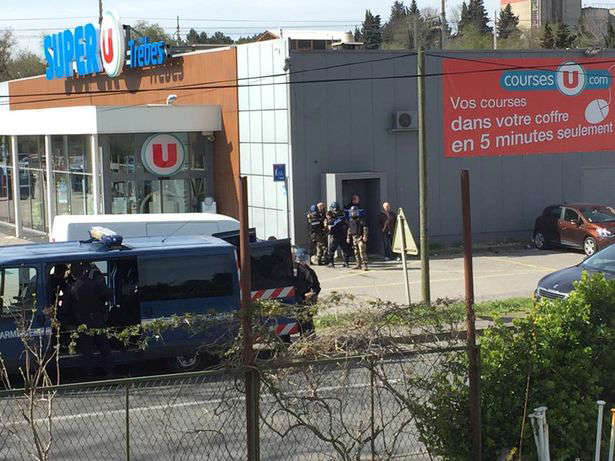 © Reuters About eight people were taken hostage at the supermarket
A source in the town said: "A butcher in the U-Supermarket has been shot dead. The gunman was heard shouting slogans about the war in Syria. He says he is representing Islamic State."
"Allahu Akbar" and "Vengeance for Syria" were heard by riot police officers who were attacked by the suspect while out jogging in civilian running gear, it was reported.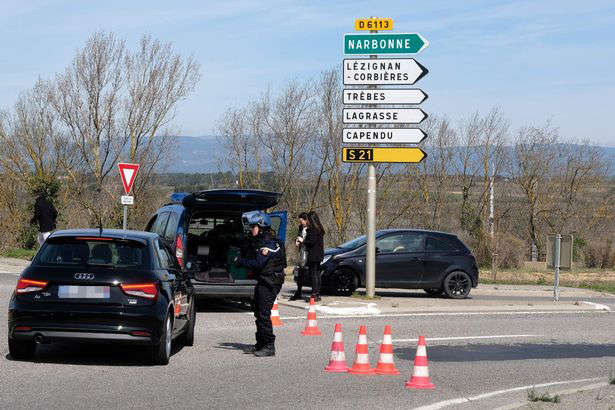 © AFP It was suggested the attacks were in response to a bombing campaign in Syria
The officers were all members of the CRS 57 (Republic Security Companies) unit, based at Carcassonne. All were off duty when they were attacked, around two miles from the supermarket.
Local media were reporting that the officers were shot at by a gunman in a car and then tried to pursue the attacker, but he drove off.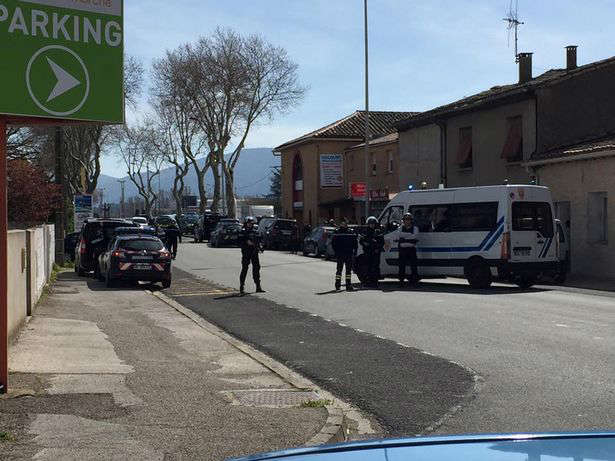 © Reuters Police surround the Super U supermarket in Trebes in the south of France
Five shots were fired and one of the officers was hit in the shoulder. He was rushed to the nearest hospital.
After the shooting, the suspect fled to Trebes, where he took hostages in the supermarket and held police at bay for hours.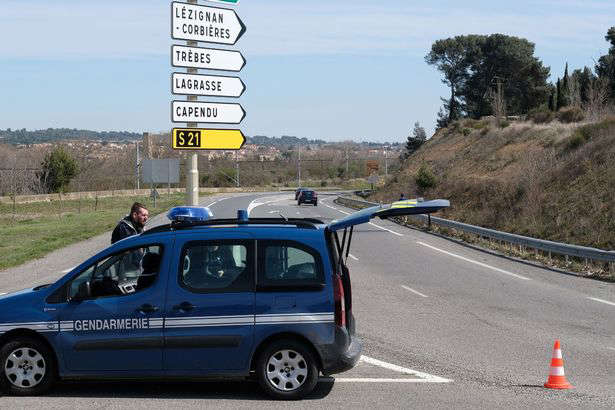 © AFP The attacks are being treated as an act of terrorism
Carcassonne and Trebes, about 85 miles south-west of Montpelier, are in an area hugely popular with British second homeowners, expats, and holidaymakers.
If a link to ISIS is confirmed, Friday morning's attack would be the first major terror incident on French soil since the election of centrist President Emmanuel Macron in May last year.
                      © Provided by Trinity Mirror Plc
The incident is happening in Trebes in the south of France
France has been on high alert following a string of jihadist attacks since 2015. In January of that year, an attack on the offices of satirical magazine Charlie Hebdo left 12 people dead.Later in 2015, in November, ISIS terrorists killed 130 people when they attacked multiple locations in Paris, including bars, restaurants, the Bataclan concert venue and the national stadium.
The hostages are being held in a Super U supermarket which has been surrounded by police
In July 2016, in another attack claimed by ISIS, a man drove a truck through revellers celebrating Bastille Day in the southern coastal city of Nice, killing 84 people.
A state of emergency put in place just after the Paris attacks in 2015 was finally lifted in October last year, but soldiers continue to patrol major tourist sites and transport hubs under an anti-terror mission.      (Mirror)