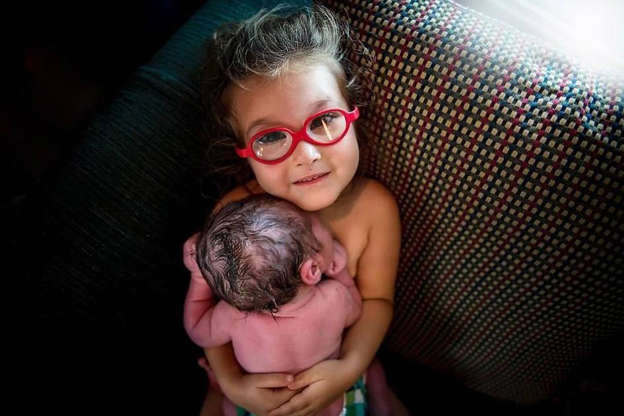 A three-year-old girl got the experience of a lifetime when she helped deliver her own baby brother.
Rebecca Joseloff, a mother of two from Patchogue, New York, knew that she wanted to have her three-year-old daughter, Hunter, present during her home birth earlier this year.
But when the moment arrived, the toddler didn't just witness her baby brother be born. Instead, she was actively involved throughout the delivery and even made skin-to-skin contact during the postpartum process.
The entire birth was documented in a series of touching images captured by Joseloff's doula and birth photographer, Nicole Lahey aka Ready Set Chaos.
One of which has since gone viral online with more than 12,000 reactions after being shared by Facebook page Love What Matters.
In the months leading up to her birth, the expectant mother ensured Hunter would be prepared for being in the room by discussing all the things she might see and hear.
She watched birthing videos, learnt anatomy in proper terms, and knew the word 'placenta.'
"Kids perceive things in the way adults react to it, so if birth is not made out to be scary or traumatic or what not, kids are not going to think that it is," Joseloff told Café Mom.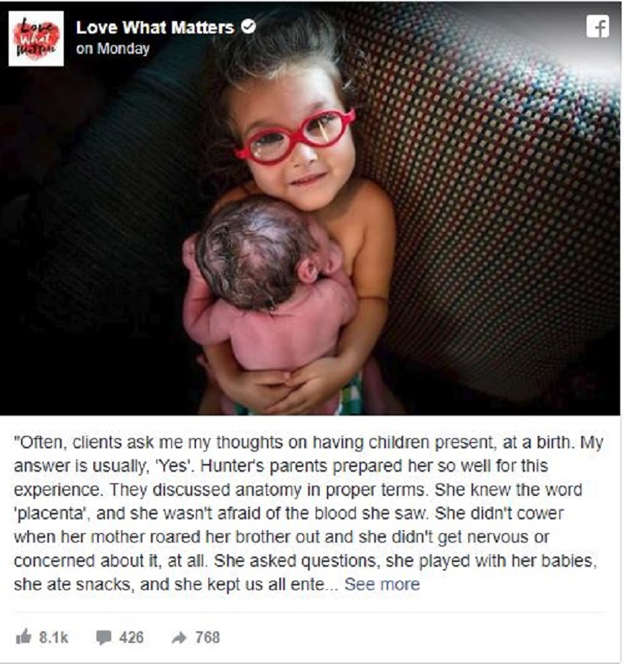 Love What Matters/facebook
"Birth is such a natural part of life and such an awesome moment, especially for a brother or sister to be there when their sibling is born; it really makes such an awesome connection for them for the rest of their lives.
When it was time to push, Lahey recalls that Hunter became her mother's biggest cheerleader, stroking her hair and even holding her brother's head as he crowned.
"She didn't cower when her mother roared her brother out and she didn't get nervous or concerned about it, at all," Lahey told Love What Matters.
"She asked questions, she played with her babies, she ate snacks, and she kept us all entertained with her adorableness."
Following the birth, Hunter took her involvement one step further by engaging in skin-to-skin contact with her little brother.
The three-year-old proceeded to take off her shirt and embrace hew newborn sibling.
"She did ask me, 'Why am I taking my shirt off?'" Lahey said.
"I replied, 'Brand new babies love the feeling of your skin, and you will love it, too.'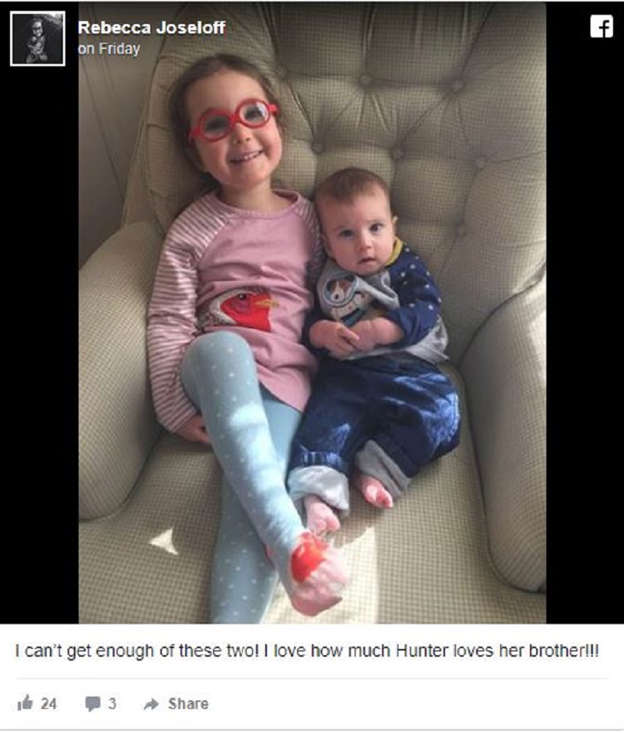 Rebecca Joseloff/Facebook "She was in heaven, and didn't want to give him back to his mum."
Despite some people having a negative opinion on young siblings being present for the birth of a new baby, Lahey believes that it should be at the parent's discretion.
"Every child is different and every parent-child relationship is different," she added.
"I feel that siblings who watch their little sibling's birth are much more connected and compassionate with one another.
"If parents really want to have their other children present at the birth, the best thing to do is prepare them with videos, talk about every aspect of birth, and speak about birth in a positive way."    (The Independent)