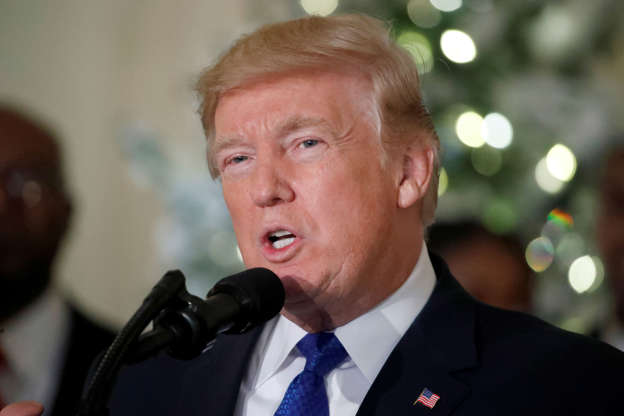 Donald Trump will attempt to end speculation about his mental and physical suitability for the presidency next week by undergoing a formal health check.
The US president is to be examined by the same doctor as his predecessor Barack Obama and a summary of the results will be made public.
The physical test will last around two hours and include blood and urine tests, heart checks and even questions about his sleeping habits and sex life, according to medical experts.
It will be carried out at Walter Reed National Military Medical Center on the edge of Washington DC, the country's largest military hospital, on Friday.
By undergoing his first formal medical check since entering the White House, Mr Trump hopes to put to bed allegations about his mental state that emerged this week.
        Related: Trump Says He's 'A Very Stable Genius' (Provided by: Wotchit)
A controversial new book by journalist Michael Wolff claimed Mr Trump was failing to recognise old friends and often repeated stories "word-for-word" .  The White House called questions about his mental suitability for office"disgraceful".
However those hoping for a tell-all medical reveal may end up disappointed, according to Arthur Caplan, founding head of the Division of Medical Ethics at NYU School of Medicine.
"The president has the same right as any citizen in the United States to keep his medical information private," he told The Sunday Telegraph. "There's never been legislation requiring that he does otherwise."
The examination is merely a custom that has become norm for presidents in recent years, rather than a constitutional or congressional requirement.
Nonetheless Mr Obama, the former president, set the bar of expectation pretty high.  His two-page medical summary released in March 2016 goes into remarkable details.
Mr Obama's exact height (73.5 inches), weight (175 pounds), body mass index (22.8 kg/m2), resting heart rate (56 bpm) and blood pressure (110/68 mm Hg) are all listed.
Everything from alcohol drinking habits – "occasionally and in moderation" – to his use of nicotine gum and cholesterol levels were spelled out in the official release.
The specificity has raised hopes that some Trump mysteries can finally be solved. Is he really 6 feet 3 inches tall, as the president has claimed despite evidence to the contrary?
Has a diet known to lean towards cheeseburgers and KFC had any impact on the wellbeing of the oldest man ever elected US president?
But the president has the power to hold back any details he wishes – as did Mr Obama, whose clean bill of health came with barely a single negative point.
It will not be the first time Mr Trump, 71, has released medical records. Facing calls for transparency during the 2016 election campaign, the candidate's personal physician put out a statement .
"Mr Trump has suffered no form of cancer, has never had a hip, knee or shoulder replacement or any other orthopedic surgery," read a note from Harold N Bornstein, MD.
"If elected, Mr Trump, I can state unequivocally, will be the healthiest individual ever elected to the presidency."
Reports of how the glowing assessment was procured – written in five minutes while a limo sent by Mr Trump waited outside, according to NBC News – dented its impact.
Dr Bornstein declined to comment on next week's medical when contacted by this newspaper.
US history is littered with past presidents hiding illnesses.  Grover Cleveland used the cover of a fishing trip to have secret cancer surgery on a yacht in 1893, fearing the impact on the markets if the news got out.
Franklin Roosevelt was said to have hidden the fact he was at "death's door" when he sought re-election in November 1944. He won, but passed away within six months.
And it is only recently that the full scale of John F Kennedy's numerous medical problems, and the drugs he used to relieve the pain, have come to light.
The lack of legal requirement for presidents to publish medical examination results has led to calls for the custom to become a rule.
Barbara Perry, the director of Presidential Studies at the University of Virginia's Miller Center, said: "Having come of age in the Watergate era, I am very keen on transparency in presidents."
She added: "Just as I want to know the pilot of my airplane is physically and mentally fit for service, the American people have the right to known the condition of their candidates and presidents."
On Friday, Mr Trump will follow a long line of presidents into the examination room. Critics and supporters alike will be carefully watching the results.   (The Telegragh)