Angelina Jolie is reflecting on her final movie with Brad Pitt.

The 42-year-old actress recently appeared on The Hollywood Reporter's podcast Awards Chatter, where she candidly discussed why she wanted to work with Pitt on their critically panned 2015 film, By the Sea. Jolie says she believed at the time that the film would improve their marriage.
© Matt Sayles/Invision/AP, File In this May 28, 2014 file photo, Angelina Jolie and Brad Pitt arrive at the world premiere of "Maleficent" in Los Angeles.
"We had met working together and we worked together well," she explains, referring to meeting on the set of 2005's Mr. & Mrs. Smith.
"I wanted us to do some serious work together. I thought it would be a good way for us to communicate. In some ways it was, and in some ways we learned some things. But there was a heaviness probably during that situation that carried on and it wasn't because of the film."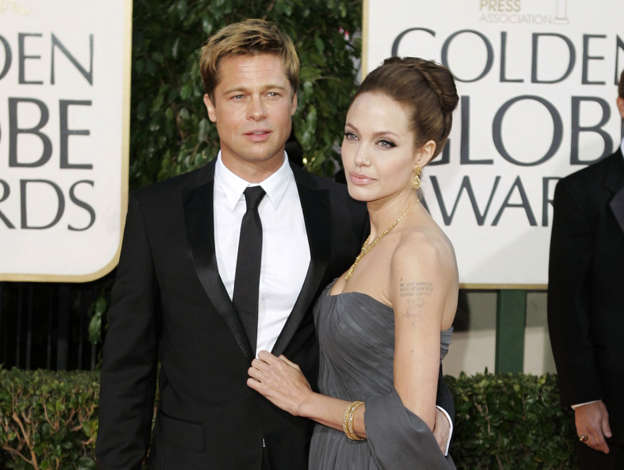 © Mark J. Terrill, File/ AP Photo FILE – In this Jan. 15, 2007 file photo, Brad Pitt, and actress Angelina Jolie arrive for the 64th Annual Golden Globe Awards in Beverly Hills, Calif.
Jolie acknowledges that outside factors definitely affected their relationship.
"Over the span of that decade, I did lose my mother," she points out. "I did have my mastectomy, and I did then have an ovarian cancer scare and have that surgery as well, and other things of course that happened in life that you go through."
"A piece of art can be something that's healing or something that's difficult," she continues. "I don't know. I'm glad we did that film because we did explore something together. Whatever it was maybe it didn't solve certain things, but we did communicate something that needed to be communicated to each other."
During the interview, Jolie also discusses her famously rocky relationship with her father, actor Jon Voight. Jolie acknowledges that she didn't feel close to her father growing up, which she explains is part of the reason why she didn't take his last name, but says they've begun a "new" relationship thanks to her kids –16-year-old Maddox, 14-year-old Pax, 12-year-old Zahara, 11-year-old Shiloh and 9-year-old twins Knox and Vivienne.
"Through grandchildren now we're finding a new relationship and it's very, very nice," she shares. "We've had some difficulties. Through art is a way we've been able to talk. It's a common language. We don't really talk politics well."
In October, Jolie brought daughters Shiloh and Zahara with her to the Los Angeles premiere of The Breadwinner, where they adorably held hands on the red carpet. (ETOnline)