The general behind Zimbabwe's coup may have sought Chinese approval days before the army launched its takeover of Robert Mugabe's government, it emerged on Wednesday.
Mr Mugabe remained under house arrest last night, still president of Zimbabwe if in name alone, a prisoner of once slavishly loyal generals who now hold the country's fate in their hands.
As the former British colony faced a deeply uncertain future under military tutelage, a trip to Beijing by Gen Constantine Chiwenga, the head of the armed forces, last week has reignited concerns about rising Chinese influence in Africa.
The general held high-level meetings with officials from the Defence Ministry, and visited a school to observe a Shaolin Kung Fu class.
Although the Chinese foreign ministry insisted Gen Chiwenga's visit was a "routine visit", analysts have suggested that Beijing may have given the rebellious army chief its tacit blessing in advance.
Mr Mnangagwa and his allies have made conscious efforts to court Beijing as both an investor and a military partner.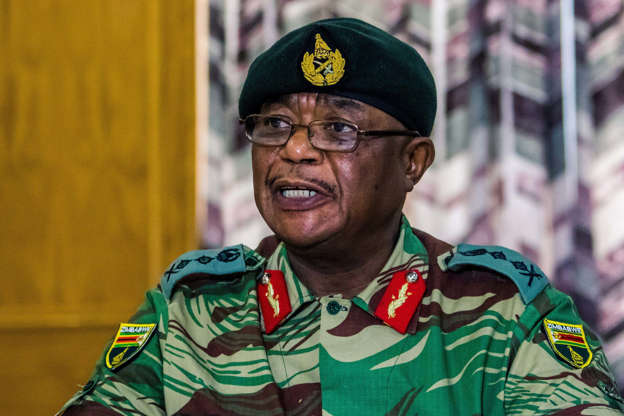 © JEKESAI NJIKIZANA/AFP/Getty Images Zimbabwe Army General Constantino Chiwenga addresses a media conference
China, which has displaced Western rivals to become Africa's largest trading partner and is a major investor in Zimbabwe, notably declined to call for Mr Mugabe's restoration yesterday, despite his long ties to Beijing dating back to the Cold War.
Last year, China pledged to invest $4bn in Zimbabwe for investment, loans and aid over the next three years.
Responding to the coup, the Chinese foreign ministry merely stated that Beijing was "paying close attention to developments", prompting suggestions that China had agreed to sacrifice "Comrade" Mugabe" in the interests of an orderly succession.                       (The Telegraph)