The U.K.'s exit from the European Union should be prevented due to the "far-reaching impact" Brexit would have, Germany's Council of Economic Experts, which advises Chancellor Angela Merkel, said Wednesday.
If Britain does leave the bloc, an agreement is needed that would minimize the damage for both sides, the council said in its annual report. With talks likely to drag on longer than the two years envisaged by EU rules, a one-time extension period should be granted, the experts said.
"Due to the wide-ranging impact of a U.K. exit from the EU, the council continues to urge that it be prevented," the council said. "The economic cost of Brexit will hit the U.K. significantly harder than the rest of the EU."
 EU President Donald Tusk last month revived the notion Britain could remain a member of the bloc, saying the outcome was entirely in the hands of the British government. Germany and France have indicated the U.K. would be welcomed back if it decided to reverse the Brexit process. In order to do so, Britain would likely have to hold another referendum or elect a government led by a party that campaigned on a promise to stay in the EU.
Brexit Deadlock
© Bloomberg/Bloomberg Commuters As U.K. Executives Angry Over Brexit Fumbles
The European Union will begin talks Wednesday on what the 27 countries want from a Brexit transition deal, seeking a united stance they can present to the U.K. once talks break out of the current deadlock. Both sides are hoping that talks on trade and the transition can move ahead after an EU summit in mid-December.
"There is still a risk of an uncontrolled exit and sudden adjustment reactions by economic agents," the German government advisers said. "Conversely, the possibility of the U.K. staying in the EU can't be completely excluded." The council's comments on Brexit made up about two pages of the more than 400-page report, which includes a detailed assessment of global economic conditions.
The advisers also urged the European Central Bank to end its bond-buying program earlier than planned and consider raising interest rates. They said that risks to financial market stability have increased even in the absence of deflationary threats in the 19-nation euro area.
"On the one hand there's a risk of excessive asset prices, especially in the residential real estate and bond sectors, and on the other hand, the interest-rate change risk at banks has increased significantly," the council said. "The ECB should therefore urgently communicate a comprehensive strategy for the normalization of its monetary policy."
NOW SEE: The Germans are making contingency plans for the end of Europe. Let's hope we are, too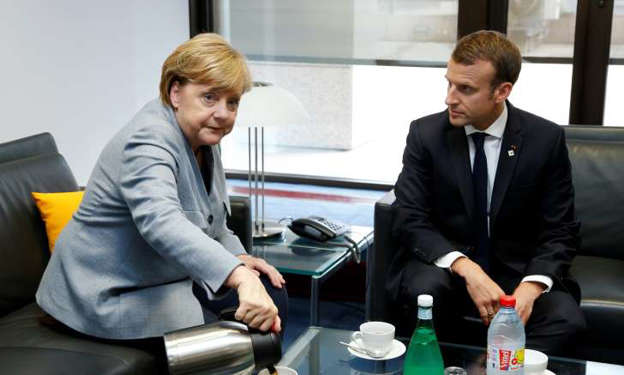 © Reuters
(Source: Bloomberg)