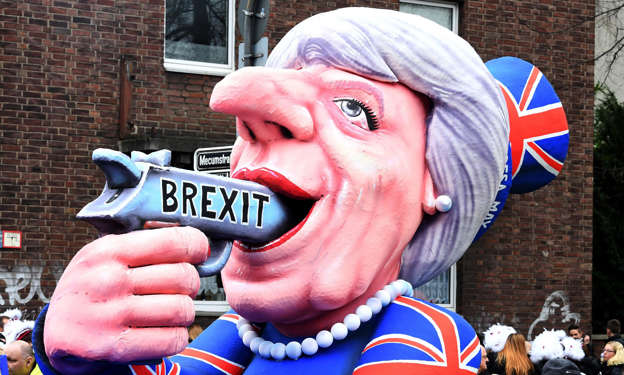 Editor's note: The opinions in this article are the author's, as published by our content partner, and do not represent the views of MSN or Microsoft.
* Many pro-Leave people believe "no deal is better than a bad deal."
* They're wrong: "No deal" is the worst-possible deal Britain could get.
* Article 50 is structured like a trap in order to deliver a "no deal" scenario to any country that dares to leave the EU.
* Theresa May and Philip Hammond seem to be belatedly waking up to the fact that threatening to walk away without a deal is a really bad idea.
LONDON — This week, Peter J. North, the editor of the Leave Alliance blog, outlined how fantastic he thinks post-Brexit Britain will be, once the UK finally gets out of the EU in 2019:
"We can the expect to see a major rationalisation of the NHS and what functions it will perform. It will be more of a skeleton service than ever. I expect they will have trouble staffing it. Economic conditions more than any immigration control will bring numbers down to a trickle.
"In every area of policy a lot of zombie projects will be culled and the things that survive on very slender justifications will fall. We can also expect banks to pull the plug in under-performing businesses. Unemployment will be back to where it was in the 80's.
"… Anyone who considers themselves 'Just about managing' right now will look upon this time as carefree prosperity. There are going to be a lot of very p***** off people.
"… Effectively we are looking at a ten-year recession. Nothing ever experienced by those under 50."
"Admittedly this is not the Brexit I was gunning for."
                © Provided by Business Insider UK Theresa May
He is still in favour of Brexit, he adds. "Admittedly this is not the Brexit I was gunning for. I wanted a negotiated settlement to maintain the single market so that we did not have to be substantially poorer."
The problem is that, like a lot of Leavers, North wasn't banking on the government choosing "no deal" — and thus no access to the Single Market — as its main strategy. In fact, until recently, "no deal" was regarded as the worst possible outcome for precisely the fears that North describes.
Yet in the last few months, "no deal" seems to be the government's target policy.
Back in May, Theresa May fought the general election with a Conservative manifesto that said: "no deal is better than a bad deal" for the UK in the Brexit negotiations with the EU.
The idea behind that phrase is that during the Article 50 negotiations Britain's chief weapon would be the prime minister's ability to get up from the table and walk away as if this were the thing that Europe fears most.
What if all the planes stopped flying?
But as her chancellor, Philip Hammond, said yesterday, "no deal" is an empty threat: The uncertainty of Brexit is already dragging down the British economy, and "it is theoretically conceivable that in a 'no deal' scenario there will be no air traffic moving between the UK and the European Union on March 29th, 2019."
He called that a "realistic worst-case scenario."
                  © Provided by Business Insider UK Philip Hammond
There are millions of hardcore Leavers out there who actually want this. They think "hard Brexit" is the best Brexit, and they are actively urging the government to leave with no deal. They think "no deal" is some sort of threat that the EU is trying to avoid.
Wrong.
"No deal" is not our backup threat to the EU. It's the worst possible outcome for the UK.
No deal involves no access to the Single Market, tariffs and taxes on UK exports, restrictions on British people travelling and working in Europe, and major cross-national employers leaving Britain in order to maintain their ties to the much larger European market. There are almost no economic advantages to "no deal," only the political advantage of not being bound by European law. (And even then, if we want to trade with Europe after Brexit, our exports will have to obey their laws.) It will shave several points off GDP growth, which right now is so weak that would mean a recession.
No deal is the bad deal.
It is the punishment Brexit. It is the deterrent to leaving, not the reward. "No deal" is what the EU wants "pour encourager les autres."
"I think we should be aiming a tad higher than avoiding death"
May again referenced "no deal is better than a bad deal" in her Florence speech, in which she talked about "our preparations for our life outside the European Union – with or without what I hope will be a successful deal." (Emphasis added.) But she went on to say, "Let us open our minds to the possibility. To a new era of cooperation and partnership between the United Kingdom and the European Union. And to a stronger, fairer, more prosperous future for us all. For that is the prize if we get this negotiation right."
May was possibly hinting that she understands that "no deal is better than a bad deal" is like putting a gun to your head and shouting "stop or I'll shoot!" The tactic is especially dumb when you understand that the Article 50 negotiation process is essentially structured like a trap, precisely in order to deliver a "no deal" scenario to any country that dares to leave the EU.
It will take several more months, and perhaps some grim job losses in Leave-voting constituencies, and among farmers, before Brexiteers realise just how wrong "no deal" can go.
Charlie Mullins, the extravagantly coiffed plumbing empire boss, said it best this week:
"The simple fact is that half a loaf is always better than starving to death, although personally, I think we should be aiming a tad higher than avoiding death."
NOW SEE: Brexit blunder – how May walked straight into the EU's Article 50 trap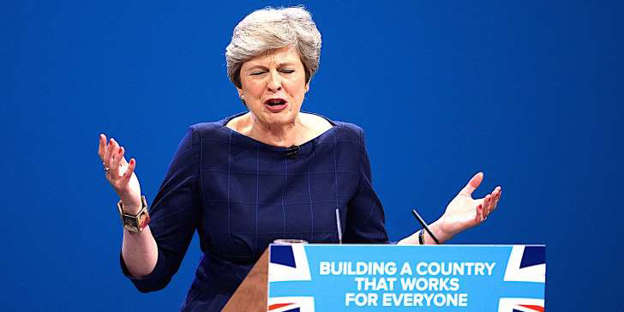 © Business Insider