North Korea has warned that Britain "faces a miserable end" if it becomes involved in the joint US-South Korean military exercises presently taking place in the South.
British forces are not taking part in the present drills, although RAF Typhoons were involved in four days of exercises with their South Korean counterparts in November, while members of the Royal Tank Regiment also observed manoeuvres with South Korean units earlier in the year.
A statement carried by the Korean Central News Agency on Wednesday has denounced Washington and Seoul as "warmongers" for carrying out the "provocative Ulchi Freedom Guardian war exercises".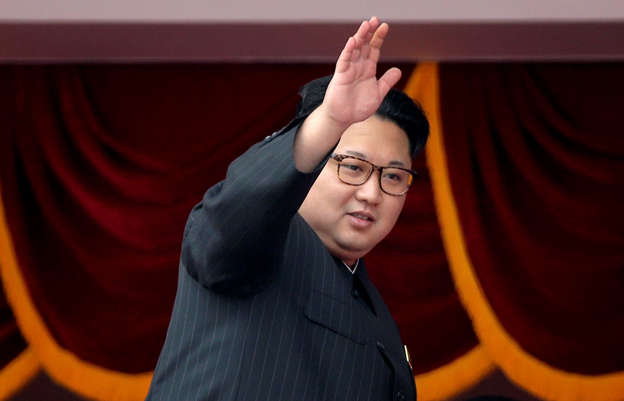 © (AP Photo/Wong Maye-E, File) FILE – In this May 10, 2016, file photo, North Korean leader Kim Jong Un waves at parade participants at the Kim Il Sung Square in Pyongyang, North Korea. South Korea's military…
The state-run media outlet dismissed South Korea's insistence that the annual exercises are purely defensive and claimed: "Formations of strategic bombers loaded with nuclear bombs are always ready for sortie".
"We solemnly warn not only the US and [the] puppet group but also satellites, including [the] UK and Australia, which are taking advantage of the present war manoeuvres against the North, that they would face a miserable end if they join in" the exercises, KCNA reported.The statement expanded the target of its threats to "satellite" nations, including Britain, ahead of Theresa May's visit to Japan next week.
As well as trade, regional security will be high on the agenda for the three-day British mission to Japan and the prime minister is expected to condemn North Korea's continued development of nuclear weapons and intercontinental ballistic missiles. The most advanced missiles in North Korea's armoury are estimated to have sufficient range to reach the UK.
Related: Kim Jong-un's chemistry briefing – Provided by Reuters
               Kim Jong Un's chemistry briefing
"The UK and our international partners are united in opposing and standing firm against the threat posed by North Korea", said Lord Ahmad of Wimbledon, minister for the Commonwealth and the United Nations.The UK voted on August 5 with all other members of the United Nations Security Council in favour of a new resolution against North Korea that includes provisions designed to restrict the regime's access to the international financial system, cap the number of workers it sends abroad to earn hard currency and bans lucrative exports of coal, iron, iron ore, seafood and lead.
"This resolution will cut the resources that North Korea is abusing to fund its reckless and illegal pursuit of nuclear and ballistic missile programmes", he said.
Earlier this month, North Korean state media condemned Britain and other nations that fought the Korean War under the banner of the UN as a "despicable burlesque of losers". (The Telegraph)