Terror returned to the streets of Europe on Thursday when a van ploughed into a crowd of people in Barcelona, killing at least 13 and injuring more than 100 others.Footage of the scene showed dozens of bodies sprawled across the pavement in Las Ramblas, a street popular with tourists. Two men, one Spanish and one Moroccan, were arrested but police said the driver of the van was still at large.

In the early hours of Friday morning, in the town of Cambrils, 70 miles away,  at least six people were hurt when "alleged terrorists" drove into pedestrians before being shot dead by security forces.

The five attackers in the Audi A3, who were wearing bomb belts, were shot dead, police said. The bomb belts were detonated by the force's bomb squad.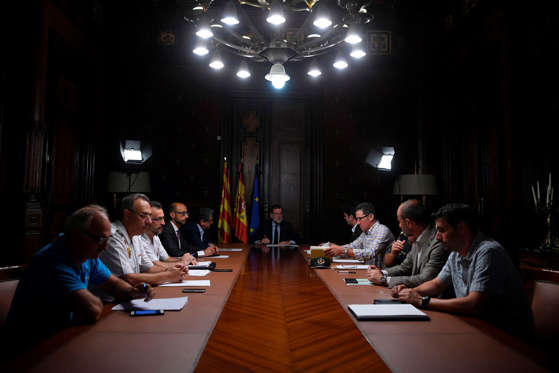 Two of the injured in Cambrils was in critical condition, emergency services said.
"The alleged terrorists were in an Audi A3 and apparently knocked down several people before coming across a police patrol and a shoot-out ensued," said a spokesman for the regional government of Catalonia, where Cambrils is located in Spain's northeast. One of the suspects was said to be brandishing a knife.
Police say the attacks were linked.
The Islamic State of Iraq and the Levant (ISIL) claimed responsibility for the Barcelona attack as Joaquim Forn, Catalonia's police chief, warned: "Unfortunately the number of fatalities will likely rise."
On Thursday night it was confirmed that a three-year-old child was among the victims and 15 people were in a critical condition.
Liam Searle, 22, from Chichester, West Sussex, said he was skateboarding along the road at around 5.15pm with his headphones on when he heard "massive bangs and thuds" which he thought were gunshots.
"I realised it was the van next to me hitting people," he said. "The van had stopped right next to me. That's when two men got out and I ran for my life."
Driss Oukabir, a 28-year-old of Moroccan origin, was suspected of having rented the van used in the assault. Spanish reports later said he had handed himself into police, who were investigating whether his brother had stolen his documentation.
Two explosions at a house in the town of Alcanar, 120 miles south of Barcelona, on Wednesday night, were last night linked by police to the attack. Officers said the residents had been preparing explosives. At least one person died and more than 16 were injured in what was initially thought to be a gas explosion.
Theresa May, the Prime Minister, condemned the "terrible" Las Ramblas assault and said Britain stood firmly with Spain against terrorism.
 Donald Trump, the US president, tweeted that the US "will do whatever is necessary to help", adding: "Be tough & strong, we love you!."   The Spanish royal family described the attackers as "assassins, criminals who won't terrorise us", while Mariano Rajoy, the Spanish prime minister, said the attack was "jihadist terrorism" requiring a global response.
In the aftermath of the attack, metro and train stations were closed amid reports that the attackers had entrenched themselves in a nearby Turkish restaurant.  This was dismissed as false by Spanish police, who advised tourists to stay in hotels.  British tourist Steve Garrett was at a nearby market.
"A large number of people ran into the market, lots of screaming, lots of shouting," he said. "We ran into a bakery with four or five others and ran straight upstairs. An enormous wave of people went through the market."
A man was shot dead after running over two police officers at a checkpoint on the outskirts of the city later in the evening. Police said last night it did not appear that the incident was linked to the van attack.
This was the eighth terror attack using a vehicle in Europe in the past three years, following the Nice assault in July 2016 that killed 86 and attacks on Westminster Bridge and London Bridge earlier this year that left four and eight people dead. Spain has not been hit by a serious terrorist incident since 2004, when Islamist militants placed bombs on commuter trains in Madrid, killing 191 people and wounding more than 1,800. But the country's reputation as a tourist hotspot has raised the terror risk.
Earlier this year, jihadists warned that they would be seeking to take their campaign of death and destruction to popular areas in the Mediterranean.
The CIA warned Spanish police two months ago that Las Ramblas was a potential target, reports said.
"The CIA had already warned the Mossos d'Esquadra [police] that Barcelona might be a terrorist target … They even put the focus on the Ramblas," El Periodico stated.             (The Telegraph)