As Usain Bolt performed his final lap of honour, illuminated by thousands of flashbulbs and with the scent of fireworks hanging in the air, he paused at the start mark of both the 200m and 100m and crouched down, eyes beginning to moisten.
"I was saying goodbye to the fans and saying goodbye to my events also," he said. "These are my two events that I have dominated for years. I was saying goodbye to everything. I almost cried. It was close but it didn't come."
The Jamaican had last been seen limping into the bowels of the London Stadium after his final race ended prematurely in injury and heartache. But he returned to be presented with a framed section of the track on which he won three of his eight Olympic titles at London 2012. The 30-year-old glad-handed with the mayor of London, Sadiq Khan, and Seb Coe, president of athletics world governing body, the IAAF.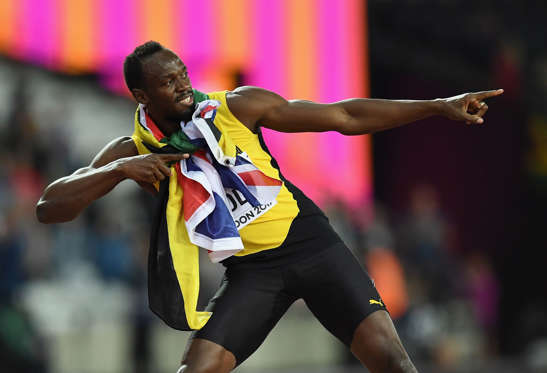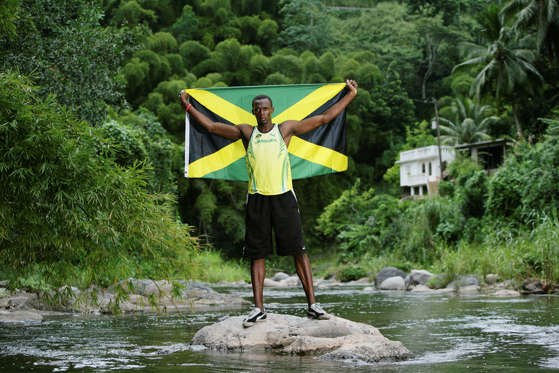 But he was feeling less kindly towards London 2017 organisers, suggesting a lengthy wait in the cold before the 4x100m relay on Saturday night may have contributed to what he confirmed was a pulled hamstring.
"It was unusual," he said, "I knew that I had to warm up because I felt a little tight and my coach said: 'Make sure stay as warm as possible in the call room. But they took us out to an area behind the billboard while two medal ceremonies happened and we waited for 10 or 15 minutes and it was kind of windy. I said: 'Why did you guys bring us out?' But we're athletes, we just follow the rules."
After being beaten to bronze in the 100m, won by Justin Gatlin, a week earlier it was a bitter blow. But Bolt insisted he had no regrets about continuing after winning three golds at Rio 2016.
"I don't think one championship is going to change what I've done," he said. "After losing the 100m someone said to me: 'Usain, don't worry Muhammad Ali lost his last fight also, so don't be stressed about that.' I've proven myself year in year out, throughout my whole career. My fans asked me to go on one more year and I did it for them."
Last week Bolt bristled in a press conference when asked if the modest 100m times run worldwide this year were perhaps reflective of improved anti-doping mechanisms. He rolled his head back as if exasperated that anyone should have the temerity to pose the question and his dismissive reaction was criticised in some quarters. But on Sunday night he was unequivocal in his damnation of drugs cheats.
"I've always been strong on doping," he said. "I feel like athletes should get life bans. If you go out of your way to cheat to be a better athlete I feel you should get life bans, that's a fact. We hit rock bottom last year or the year before and now we're on our way back up. Now we have to be strict on this to help the sport stay in a good place. I've proven to the world you can do it. You can be great without doping, that's one of the things I want to preach to the younger kids."
 © Getty Images Usain Bolt bids farewell to athletics inside the London Stadium.
Being a mentor to youngsters, particularly in his native Jamaica, is something Bolt intends to occupy much of his time on in retirement. But first, will come the nightclubs of London and Kingston.
"My bucket list right now is to have some fun," he said, "to just go out and have a drink. I've had a stressful championship, so I want to spend some time with my family, too."
Track and field have been Bolt's life since his remarkable talent was first identified aged 10. No other job has been required, so inane interview questions are not something he has had to contend with. But when asked where he sees himself in 20 years his answer suggested he will not be actively clinging on to the spotlight. "Hopefully I'll be married with three kids," he said, "still in track and field and just watching sport grow. I said I won't be one of those parents who force their kids to do the sport, but if they want to run I will tell and show them it's a great sport."
It was left to Lord Coe to ponder once more the quandary of what the sport will look like without Bolt and he decided that there will never be another. "What we are going to miss about Usain Bolt is not the three back-to-back Olympic Games or the clutch of world records or the medals," he said. "It's going to be because he has an opinion, he has a view, he fills a room. We have some really terrific talent that's identified themselves at these championships, but that's not the same as filling that void."  (The Guardian)