Russian President Vladimir Putin's Siberian getaway dominated his homeland's news agenda over the weekend, his torso already earning plaudits from the tabloid press, as well as comparisons to fictional adventurer Indiana Jones.
The politician's topless photos of his fishing trip to Tuva was reminiscent of Harrison Ford's "indomitable adventurer and conqueror of hearts," Moscow tabloid, Moskovskiy Komsomolets wrote Sunday.
The images, released by the state-run TV channels, harkened back to 2007 when Putin first famously strode around the same rural idyll, baring his chest by the Siberian lakeside.
Putin's most memorable photo ops (Photos)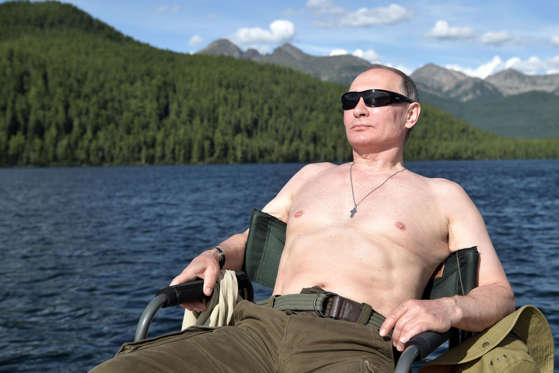 "Russians were able to arrive at the conclusion that in the 10 years passed since the analogous photo shoot, their president has not changed a bit and is totally capable to plow on like a slave on a row ship," the paper wrote, referencing an odd phrase Putin himself used to describe his dedication to his work.
"This was not merely idle sunbathing in good weather," state-run NTV declared, noting that Putin tried to cram the "maximum amount of adventure in nature" during his three-day break.
                 © Getty Putin poses topless on holiday
"Putin showed his excellent physical form," Russia's Defense Ministry channel Zvezda, declared, noting that the president fished shirtless while knee-deep in water, before then taking a swim in it, despite the temperature rising no higher than 17 degrees Celsius.
"That is for real men," local tourism organiser Mikhail Klimov told state news channel Rossiya 24. "It is great that our president yearns for precisely such a break. You can sense it by his mood, see it in his eyes that all this is close to his heart—nature, the outdoors, fishing, freedom. We Siberians cherish this dearly too."
© Sputnik/Alexei Nikolsky/Kremlin/Reuters Russian President Vladimir Putin and Defense Minister Sergei Shoigu rest during the hunting and fishing trip which took place on August 1-3 in the Republic of Tyva in…
When he did decide to put on a shirt sporting the Russian army's merchandise label, Putin earned the praise of pro-Kremlin tabloid Komsomolskaya Pravda, commending him for "advertising not only domestic tourism but also a national brand for clothes."
Some of the footage came from a Go Pro camera mounted on Putin's diving suit, in which, his spokesman Dmitry Peskov said, the president chased prey in the water for two hours. The leader was now "going for the hearts of all voters," the Moskovskiy Komsomolets predicted, referring to the upcoming March 2018 presidential elections in Russia.
Putin has not yet announced if he will run for the presidency for a fourth time next year when his current term runs out. The vast political establishment in Russia is touting no candidate as a potential successor.  (Newsweek)