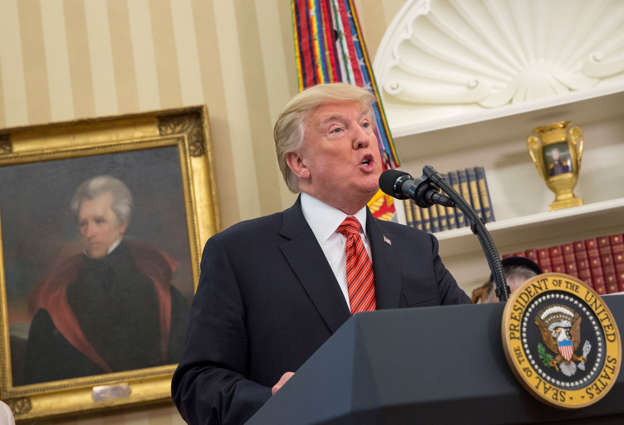 US President Donald Trump has criticised his Republican colleagues by saying that they were not doing enough to "protect" him.
"It's very said that Republicans, even some that were carried over the line on my back, do very little to protect their President," Trump tweeted after another post calling investigations into Russian interference in the last election "phoney".
"As the phoney Russian Witch Hunt continues, two groups are laughing at this excuse for a lost election taking hold, Democrats and Russians!" Trump wrote on Twitter.
In the last few days, Trump has been active on social media, as he dismisses the crises still unfolding in only his sixth month of presidency. On Saturday (22 July), he once again attacked Hillary Clinton, eight months after his election victory.
© JIM WATSON/AFP/Getty Images Donald Trump walking towards Air Force One
Also, there was another Twitter dig at his own party came on Saturday when the president wrote: "The Republican Senators must step up to the plate and, after 7 years, vote for Repeal and Replace. Next, Tax Reform and Infrastructure. WIN!"
Trump's overhauling agenda has been slowed by the realities of Washington politics. After a tight push to get the bill through the House of Representatives, efforts to pass a bill replacing Obama's signature health care policy fell apart.
Republicans on the right of the party argued that the bill did too little to scrap the Affordable Care Act while more moderate senators in the party wanted a less drastic change. The Congressional Budget Office has produced a series of scores for the evolving Republican health care bill that continually shows millions of Americans losing health coverage under the plans.
Trump promises to reform the tax system and create a huge infrastructure bill have been stymied by the continuing failures to progress with health care. (IBT)