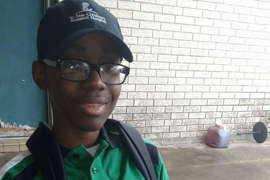 The grieving family of a Louisiana teen who died on Sunday is grateful that he was given the chance to fulfill his final wish to receive his high school diploma. Jerome Singleton, 17, had been diagnosed with Rhabdomyosarcoma and after 47 rounds of chemotherapy, doctors said there was nothing more they could do.
With Scottlandville High School's graduation planned for later this month, concerned family members worried that Singleton wouldn't be able to achieve his dying wish, KTVU reported. But the school had other plans for the teen, and held a special ceremony for him at his home where he was receiving hospice care.
Relatives, friends, nurses and Singleton's high school principal were on hand for the ceremony, and though he was too weak to stand he proudly donned a cap and gown. Attendees sang his favorite song, "Oh Happy Day," and Singleton officially became a high school graduate.
He died on Sunday at home while holding his younger sister's hand.
A GoFundMe page to help the family cover the costs of a funeral has asked for prayers for Singleton.
(FOX NEWS)