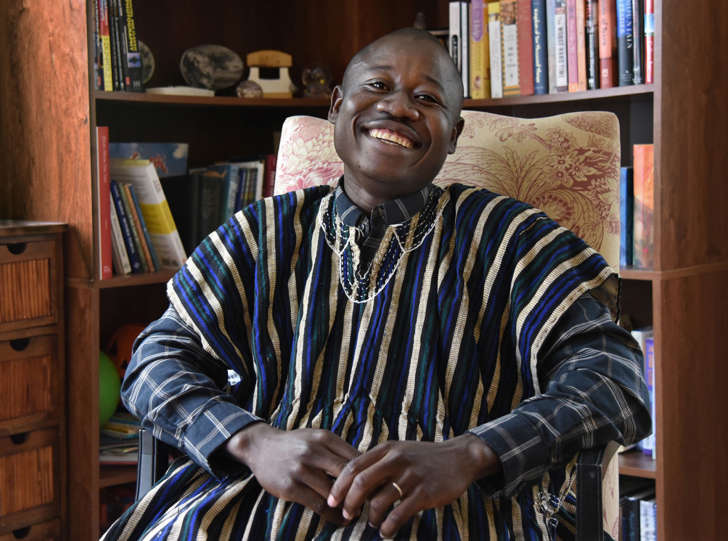 The remote bushlands of West Africa are far from Johns Hopkins University, and the path was neither sure nor straight for the boy whose name meant "beloved by his ancestors." They called him Kpimenongme Mwinnyaa.
Only now, as he prepares to graduate – having been baptized George, having earned semester after semester of straight A's despite grades once too poor for college – does he dare believe it's more than a dream.
George Mwinnyaa, 29, will receive a bachelor's degree in public health with academic honors during Hopkins' commencement Wednesday.
Mwinnyaa, who is from Ghana, says he slips on a woven African smock each morning to remember where his path began.
"If you don't know where you come from, you will not know where you are going," he says.
He comes from a remote village in Nandom-Guo, where a cobra bite kills fast and cholera even faster. Polygamy was the custom and his father had seven wives and 32 children. George was the youngest of them all. He was about five years old when his father died and his widowed mother was left to raise seven children. A slight woman, she held off starvation with her wits, boiling hot peppers into soup. A few spoonfuls would cause George to gulp water to ease his hunger.
Each morning he woke before sunrise to fetch water from the river and hoe the dry plot that never grew enough beans. Then he walked a path through the bush to cinder-block desks arranged beneath a shea tree, a place they called school.
He earned poor grades, C's at best. When he led his class in the morning routine, he burned with shame from the holes in his pants; he had no underwear.
Somehow, his mother managed to pay his school fees. Monica Naaludong persuaded teachers to take him when his tuition was late. She sold her traditional beads and hand-woven cloths to afford his books. George held back his frustration when she insisted education was more important than a full belly.
"She knew that education was a way to change not only me, but my whole family's destiny," he said.
His grades were too poor for college, but Ghana's health department offered to train traveling health workers. Two years later, he was riding a motorbike to rural villages, immunizing children against yellow fever and polio. He waded across rivers carrying vaccines on his head. He taught mothers breastfeeding methods and measured the heartbeats of their babies.
He earned less than $9 a day, a life-changing salary, and bought his mother the traditional cloths she once sold for his books.
In the coastal city of Esiama he met a Peace Corps worker from Alaska, and all his questions about America tumbled out. He saw a job opening online for a health worker in Haiti. What was a resume? he asked her.
"I was like, 'He'll never be able to save enough money for a plane ticket, but I'll help with a resume,'" Leslie Lucas said.
When they walked along the beach, she told herself it was customary for friends to hold hands in Ghana. But they married in a local chapel in August 2012. One year later, the couple boarded an airplane and flew to America.
A surprise arrival
Dr. Henry Perry taught Hopkins students about Ghana's health workers for nearly a decade before one showed up on his campus in Baltimore. It was spring 2016, and Perry heard of a transfer who had worked in the Ghana community health service.
"To have one of them end up coming here to our university is entirely unusual," said Perry, a professor in the Bloomberg School of Public Health. "I don't know if this has ever happened."
He invited George Mwinnyaa to share his experience with a class. Later, he learned of the young man's path.
George and Leslie Mwinnyaa had settled in the suburbs east of Reno, Nevada, where she worked as a school counselor. George walked the mile each day to Fernley Elementary School and his job as a janitor.
The admissions office at University of Nevada, Reno, turned him down. Nearby Truckee Meadows Community College requested his high school transcripts. George didn't even have a birth certificate. He passed an exam to enter Western Nevada College and made the dean's list.
American colleges had libraries and tutors, he discovered. Professors even held office hours. The young man who was raised without any advantages was now embracing every one.
"You have the Internet. You have light. How does somebody fail in America?" he said.
He watched college lectures on YouTube again and again, telling himself he must study twice as hard to compete. He transferred to Truckee Meadows and earned an associate's degree in spring 2015, finishing with a 4.0 GPA. He was inducted in the Phi Theta Kappa Honor Society. One day he burst into the office of his biology professor with news. Johns Hopkins University offered him a scholarship. Now his path led to the nation's premier public health program.
"That was his ultimate dream," said Laura Briggs, his biology professor at Truckee Meadows.
She threw a farewell party for George and Leslie Mwinnyaa and guests passed around a hat to collect money for the couple's drive to Baltimore. They left the next day with their 3-week-old son, Yiri.
George Mwinnyaa entered Hopkins in fall of 2015 and began acing classes. By spring, he was enrolled in Professor Karen Masterson's science writing class, where she presented a live video lecture by a Dutch expert. George asked if he might address the expert on the screen.
"George gave this eloquent, smart thank-you that was about a minute long," Masterson said. "I didn't even think to do that and I was the professor, right?"
She went to the academic adviser for public health students, asking, "Who is George?"
By then, the adviser, Lisa Folda, had befriended the young father. She gave him the old stroller and baby gate in her basement.
"We don't take many transfers. We definitely take a very few from community college," she said. "To know George's origin story and how he wound up in Reno was to know he wasn't going to take any opportunity for granted."
He was selected last year from more than 100 applicants around the country who applied for about 15 prestigious undergraduate scholarships from the National Institutes of Health. He will work this summer at a lab in East Baltimore, testing blood samples from South Africans with HIV.
In boyhood, George Mwinnyaa walked barefoot on a dirt path to school from a house built of mud and cow dung. On Wednesday, he will walk his shortest yet longest path of all: across Hopkins' graduation stage.    (Baltimore Sun)