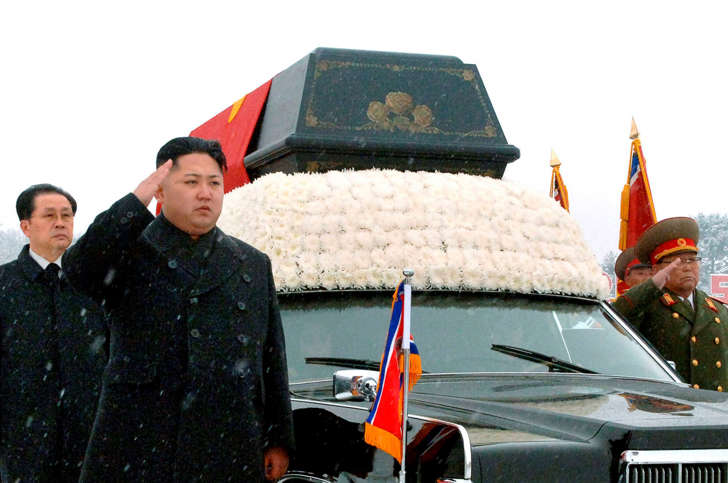 North Korea's missile programme is progressing faster than expected, South Korea's defence minister said on Tuesday, after the UN Security Council demanded the North halt all nuclear and ballistic missile tests and condemned Sunday's test-launch.
Han Min-koo told South Korea's parliament the test-launch had been detected by the controversial U.S. THAAD anti-missile system, whose deployment in the South has infuriated China.
The reclusive North, which has defied all calls to rein in its weapons programmes, even from its lone major ally, China, said the missile test was a legitimate defence against U.S. hostility.
The North has been working on a missile, mounted with a nuclear warhead, capable of striking the U.S. mainland.
U.S. President Donald Trump's administration has called for an immediate halt to Pyongyang's provocations and has warned that the "era of strategic patience" with North Korea is over. U.S. Disarmament Ambassador Robert Wood said on Tuesday China's leverage was key and it could do more.
Han said Sunday's test-launch was "successful in flight".
"It is considered an IRBM (intermediate range ballistic missile) of enhanced calibre compared to Musudan missiles that have continually failed," he said, referring to a class of missile designed to travel up to 3,000 to 4,000 km (1,860 to 2,485 miles).
Asked if North Korea's missile programme was developing faster than the South had expected, he said: "Yes."
Han said the Terminal High Altitude Area Defense (THAAD) anti-missile unit deployed by the U.S. military in the South detected the North Korean missile, marking the first time the controversial system has been put to use since its deployment last month.
China has strongly opposed THAAD, whose radar it fears could be used to spy into its territory, despite assurances from Washington that THAAD is purely defensive. South Korean companies, from automakers to retailers and cosmetics firms, have been hit in China by a nationalist backlash over Seoul's decision to deploy the system.
The North's KCNA news agency said Sunday's launch tested its capability to carry a "large-size heavy nuclear warhead". Its ambassador to China said in Beijing on Monday it would continue such test launches "any time, any place".
The test-launch was a legitimate act of self-defence and U.S. criticism was a "wanton violation of the sovereignty and dignity of the DPRK", a North Korean diplomat told the U.N. Conference on Disarmament in Geneva on Tuesday.
DPRK are the initials of North Korea's official name, the Democratic People's Republic of Korea.
"The DPRK will bolster its self-defence capabilities as long as the United States continues its hostile policies towards the DPRK and imposes nuclear threats and makes blackmail," diplomat Ju Yong Choi said.
The missile flew 787 km (489 miles) on a trajectory reaching an altitude of 2,111.5 km (1,312 miles), KCNA said.
Pyongyang has regularly threatened to destroy the United States, which it accuses of pushing the Korean peninsula to the brink of nuclear war by conducting recent military drills with South Korea and Japan.
Trump and new South Korean President Moon Jae-in will meet in Washington next month, with North Korea expected to be high on the agenda, the South's presidential Blue House said.
Moon met Matt Pottinger, overseeing Asian affairs at the U.S. National Security Council, on Tuesday and said he hoped to continue to have "sufficient, close discussions" between Seoul and Washington, the Blue House press secretary told a briefing.
"FURTHER SANCTIONS POSSIBLE"
In a unanimous statement, the 15-member UN Security Council on Monday said it was of vital importance that North Korea show "sincere commitment to denuclearization through concrete action and stressed the importance of working to reduce tensions".
"To that end, the Security Council demanded the Democratic People's Republic of Korea conduct no further nuclear and ballistic missile tests," the council said, adding that it was ready to impose further sanctions on the country.
The North's foreign ministry rejected the statement, saying it infringed on its right to self-defence, particularly as the missile was test-launched at a sharp angle to ensure safety of neighbouring countries.
The UN statement also condemned an April 28 ballistic missile launch by Pyongyang.
Following that launch, Washington began talks with China on possible new U.N. sanctions. Traditionally, the United States and China have negotiated new measures before involving remaining council members.
The United States sees China as key, U.S. Disarmament Ambassador Wood told reporters on a conference call.
"I'm not going to talk about various policy options that we may or may not consider, but I will say this: we are certainly engaged right now in looking at a number of measures – political, economic, security – to deal with these provocative acts by the DPRK, and dangerous acts in many cases," he said.
"So we are going to be raising the level of engagement with China on this issue. China really is the key in dealing with the North Korea issue. Ninety percent of the DPRK's trade is with China, so clearly there is a lot more leverage that China has, and we would like China to use."
The Security Council first imposed sanctions on North Korea in 2006 and has stiffened them in response to its five nuclear tests and two long-range rocket launches. Pyongyang is threatening a sixth nuclear test.
Trump warned in an interview with Reuters this month that a "major, major conflict" with North Korea was possible. In a show of force, the United States sent an aircraft carrier strike group, led by the Carl Vinson, to waters off the Korean peninsula to conduct drills with South Korea and Japan.
Admiral Harry Harris, the top U.S. commander in the Asia-Pacific, said continued missile launches by North Korea showed the importance of the alliance between Japan and the United States and called the North's actions unacceptable.
Harris met Japanese Prime Minister Shinzo Abe, who also said China could apply more pressure to rein in North Korea.
"Now is the time to put pressure on North Korea," Abe said. "Japan and the United States must coordinate and put pressure."
The U.S. Seventh Fleet carrier, the Ronald Reagan, left Yokosuka in Japan on Tuesday on its regular spring patrol and will be out for around three to four months, a Seventh Fleet spokesman said.
Besides worries about North Korea's missile and nuclear weapons programmes, cyber security researchers have found technical evidence they said could link the North with the global WannaCry "ransomware" cyber attack that has infected more than 300,000 computers in 150 countries since Friday.                (REUTERS)