Aaron Blake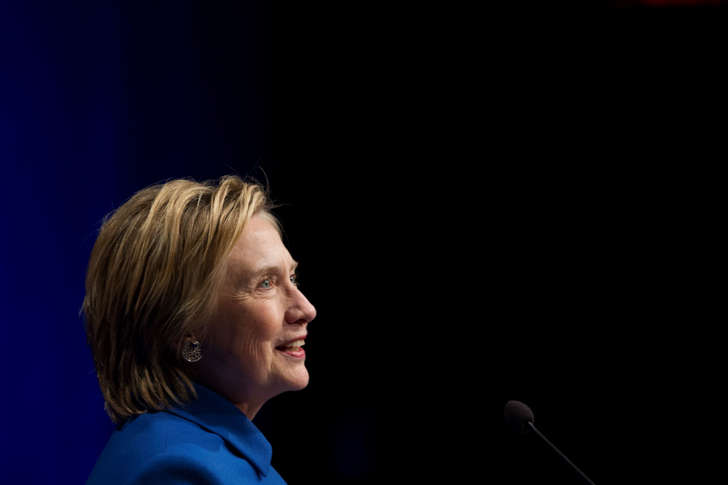 © AP Photo/Cliff Owen Hillary Clinton addresses the Children's Defense Fund's Beat the Odds celebration at the Newseum in Washington, Wednesday, Nov. 16, 2016.
Donald Trump's presidential campaign rallies were full of chants of "lock her up" — urging the jailing of his now-vanquished opponent, Hillary Clinton. And Trump more than played along, saying he would appoint a special prosecutor to look at making that happen (and sometimes going even further).

Trump suggested earlier this month on "60 Minutes" that he might not make good on that pledge:
TRUMP: Well, I'll tell you what I'm going to do, I'm going to think about it. Um, I feel that I want to focus on jobs, I want to focus on healthcare, I want to focus on the border and immigration and doing a really great immigration bill. We want to have a great immigration bill. And I want to focus on all of these other things that we've been talking about.
LESLEY STAHL: You– you know, you–
TRUMP: And get the country straightened away.
STAHL: You called her "crooked Hillary," said you wanted to get in jail, your people in your audiences kept saying, "Lock em' up."
TRUMP: Yeah. She did–
STAHL: Do you—
TRUMP: She did some bad things, I mean she did some bad things–
STAHL: I know, but a special prosecutor? You think you might…
TRUMP: I don't want to hurt them. I don't want to hurt them. They're, they're good people. I don't want to hurt them. And I will give you a very, very good and definitive answer the next time we do 60 Minutes together.
Now, top aide Kellyanne Conway is echoing the president-elect, saying on MSNBC's Morning Joe that it's probably time to move on.
"I think when the president-elect who's also the head of your party now, Joe," Conway said, "tells you before he's even inaugurated he doesn't wish to pursue these charges, it sends a very strong message, tone and content to the members.
"Look," she added, "I think he's thinking of many different things as he prepares to become the president of the United States and things that sound like the campaign aren't among them."
Voters seem to agree. A poll last week from the Washington Post and Schar School of Policy and Government at George Mason University shows 57 percent of American adults said they didn't want Trump to appoint a special prosecutor to continue looking into Clinton's use of a private email server as secretary of state. Just 36 percent say they did.
But if you look at Trump voters only, it seems they would very much wanted him to follow through. Fully 69 percent said he should appoint a special prosecutor; just 23 percent say he shouldn't.
The topline numbers were notable, given how many Americans say they believe Clinton did something wrong or even broke the law. A Washington Post-ABC News poll conducted after FBI Director James Comey announced he would not recommend charges against Clinton back in July showed 56 percent of Americans disagreed with that decision.
The situation unexpectedly worked its way back into the campaign on the eve of the election, when Comey announced 11 days out that additional emails found during a separate investigation into former congressman Anthony Weiner (D-N.Y.) would be examined. The weekend before the election, Comey announced he would not change his recommendation of no criminal charges against Clinton.
Clinton herself recently cited Comey's unorthodox announcements as contributing to her loss.
Despite that clear majority concern over whether Clinton broke the law, post-election just more than one-third thought the case was worth pressing forward with using a special prosecutor who might come to a different conclusion than Comey.
Which is perhaps to be expected. Whether Clinton broke the law is a far less pressing topic in American politics now that it seems as though she will never again hold public office.
But that didn't stop Trump supporters from overwhelmingly believing that the case is still worth pursuing.
The question from here is whether, now that it seems Trump will fail to make good on his promise, they might raise a fuss. (There were some early signs Tuesday some key supporters might):  (The Washington Post)