AFP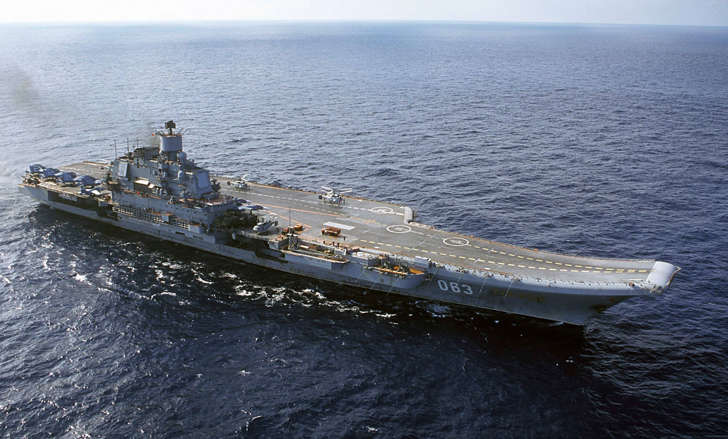 Russia's flagship aircraft carrier set off Saturday for the Mediterranean Sea where Moscow's naval forces are supporting its bombing campaign in Syria, the defence ministry said.
The deployment of the Admiral Kuznetsov aircraft carrier comes weeks after Defence Minister Sergei Shoigu said the ship would be sent to the eastern Mediterranean to boost the country's naval forces in the area.
The Admiral Kuznetsov is travelling with the Pyotr Veliky battlecruiser, the Vice-Admiral Kulakov destroyer and large anti-submarine ships, the ministry said.
In addition to safeguarding maritime navigation, the ships are meant to "respond to new types of modern threats like piracy and international terrorism," the ministry said.
Russia has been flying a bombing campaign in Syria for the past year in support of President Bashar al-Assad and has deployed a naval contingent to back up its operation.
This is the first time that the Soviet-era Kuznetsov — Russia's only aircraft carrier part of its Northern fleet based in Murmansk — will join the Russian deployment after undergoing a refurbishment.
The defence ministry did not specify how long the aircraft carrier's mission would last.
Russia has a base in government-controlled Syrian territory from which it has flown most of its bombing raids in the country.
This week President Vladimir Putin approved a law ratifying Moscow's deal with Damascus to deploy its forces in the country indefinitely, in a move seen as firming their long-term presence.
The defence ministry said earlier this week that Moscow was poised to transform its naval facility in the Syrian port city of Tartus into a permanent base.
Moscow has flown long-range bombing raids from bases in Russia and fired cruise missiles from ships in the Caspian Sea and a submarine in the Mediterranean.